Olympic Dreams: Loughborough pole vaulter Kate Dennison
Last updated on .From the section Olympics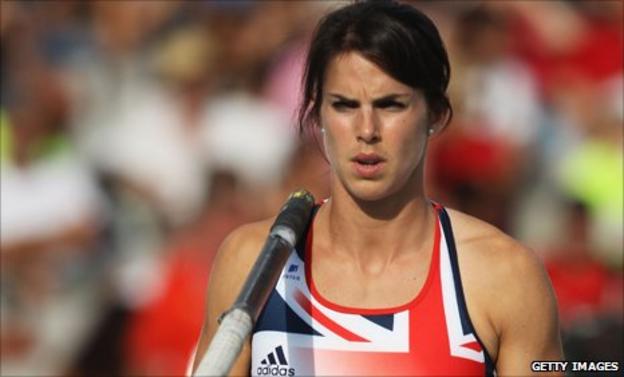 Loughborough's Kate Dennison is hoping to break the British women's pole vault record at the London 2012 Olympics.
"I found it very tough when it happened on the day," said Dennison.
"I relish the challenge, I'm trying to look at her as another world competitor even though she's British and hopefully it makes pole vaulting more exciting."
The Olympic hopeful, who was born in South Africa and came to England when she was four years old, comes from a sporting family.
"My mother swam for Zambia and my dad was into a variety of sports," she said.
"Simon, my eldest brother has done triathlons and swum nationally and Bruce has taken part in the under-18s gymnastics, Commonwealth Youth and the European Youth Games."
From a young age Dennison was a gymnast and took up pole vaulting for enjoyment when she was about 16 years old.
"I was quite fast, I won the 100m and 200m and I fancied my chances in the 1,500m back then," she said.
"I really wanted to go to the Olympics when I was a gymnast and I got to the top five in the country in my age group, but I had nothing else to give so I couldn't see that dream happening - that's when I decided to start another sport.
"It was just for fun, because women's pole vaulting was a developing sport.
"I was good almost straight away and was taking part in international competitions within the first year, so I thought maybe I could go to the Olympics."
Dennison, who took part in the Beijing Olympics, said she moved to Loughborough because of its reputation for attracting "talented athletes" and having "excellent sporting facilities".
"It has a reputation for either making or breaking you," she said.
"I think the key to my success was going there at 21 so I wasn't as involved in the student lifestyle anymore.
"I think being surrounded by people who have the same goal is really is important, you can almost guide each other through the years."
And Dennison says she is motivated by the successful athletes that currently train and have trained the university.
"London 2012 will be even better than anything we've experienced because we're going to be there in a British vest and people are going to get behind the nation - it's going to be electric," she said.
"And the biggest thing going into the Olympics is being confident."
Kate Dennison is one of BBC Radio Leicester's featured athletes as part of 'Olympic Dreams' in the build-up to London 2012.