Olympic Dreams: Adam Burgess hopes to make splash
Last updated on .From the section Olympics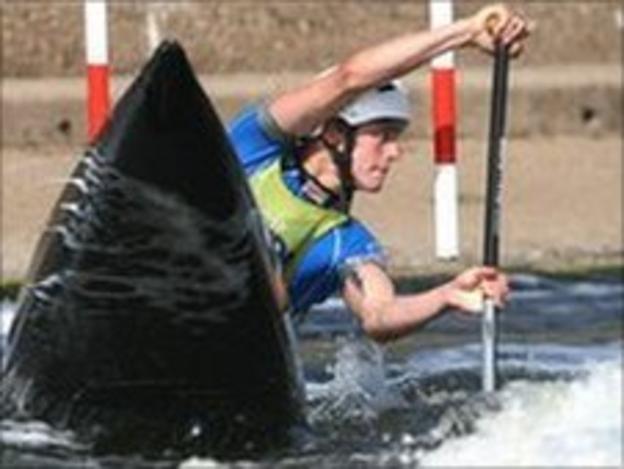 Adam Burgess has just turned 19-years-old and has his sights set firmly on qualifying for next year's Olympics.
The canoeist from Stone in Staffordshire knows it is going to be tough. There is only one place up for grabs and he is up against an Olympic silver medallist.
"I wouldn't consider myself to be the favourite to earn that place but I am a contender," he said.
Outside of canoeing, Adam likes to cross train in other sports - climbing, running and swimming - to improve his fitness levels.
He is a huge football fan and supports Stoke City.
Adam's blog: 24/03/2012
The racing season has offically kicked off, and it is just three weeks until Olympic, Senior, and Under 23 selection.
Despite still being very much in a training phase and not at all 'race-sharp' I've had a good start with a Gold at the British University Championships, a 3rd place at the 1st Premier event of the year in Bala, Wales, and a 4th place at the 2nd Premier event in Nottingham.
I am looking forward to having a good taper into the selection series and feeling sharp because this will be my first chance to see properly how my physical training has paid off.
I've managed to hit PBs across the board on all of my flatwater sprint distances (10m, 50m and 100m) and set the benchmark for the rest of the C1 boys to chase!
So I'm feeling very good about my ability to move the boat forwards. Slalom obviously has a lot more to it than just that though!
I've spent a lot of time on the Olympic course in Lee Valley to learn it as best I can, and I have a further three weeks training there before selection. This last run into the race is mainly psychological from now.
There will be minimal physical gains left to made, so it's all about putting in the time to prepare the mental side properly and to learn the course at Lee Valley as well as I can. This is where the majority of my focus will be for the next few weeks.
I am starting to get excited about it now it's getting close and I think I'm thinking about it in the the right frame of mind. So I'll be giving it my best shot and see what happens from there.
Whatever happens at selection, I know that I have got a great summer of racing ahead, which does ease the pressure slightly.
It's very important that I am not thinking solely of the end goal as I would suffer from far too much anxiety.
I'm doing what I can to think about all the things that I need to do in order to get to that goal. And then the result will take care of itself.
Adam's blog: 31/01/2012
The "Strength Block" has come to an end and the "Speed Block" is now well underway. I feel like I've made my full adjustment to wearing the i-GO lenses to improve my sight, and I've made my move to London so I can train on the Olympic course more.
In this current block of training, all of my physical sessions are just geared around going fast and making the boat get up to speed quickly from a standing start. From the data we have of recorded 20m sprint times, I've matched the record and become one of the very few C1 paddlers to reach a sub 7 second time. So already the speed work we're doing is paying off.
I've continued to wear my overnight lenses to correct my short-sightedness and now I think I've made the full adaption. Being able to see properly for all of my sessions has been great, especially with trying to learn the subtleties of the Olympic course's waves and other features.
I've made a semi-move to London, so now I'm operating out of a base there, but my coaching and support services still remain predominantly in Nottingham.
Training in London has been great. I'm really enjoying every second I'm spending on that course. I'm finding that the hard physical work I've put in already this winter has really paid off. I can now just really focus on the technical element of paddling there and learning the place inside out.
Adam's blog: 28/12/2011
The last month has been really exciting. Lots of hard work being put in in training and starting to reap the rewards. I've been spending some time training in London on the Olympic course too and the really exciting thing this month is that I can now see!
I'm normally short-sighted, but obviously couldn't wear glasses to paddle in, and I never trusted my lenses enough in the water because they always used to slip. I found out about i-GO overnight lenses on the internet. I've been wearing them every night for the last couple of weeks now and my sight is perfect all day long. It's made such a difference in the boat because I can see all the time and I don't have to worry about any lenses slipping out. So I'm really looking forwards to how these lenses are going to help me in the 2012 season, which is on its way fast now.
I'm having a bit of an easier period over Christmas. Training 12-15 times a week since the end of October has really taken its toll. So I'm not following much of a program for the next week or so and just doing a bit here and there.
I've started to make some advances with getting a place to stay in London so I can start to spend most of my week there come the New Year. It's very challenging white-water and also very physical so there are lots of gains to be made there as well as the familiarity with the course where I'll be racing selection for U23, SNR, and Olympic teams.
Adam's blog: 17/11/2011
So the domestic season has come to an end now, I managed to improve my ranking a little in the last few races to finish 2nd senior and 1st U23 overall for the year (out of a series of 9 races, with people best 5 results counting).
I was very happy with this. Over the last 3 years I have gone 4-3-2, so next year (especially with it being an Olympic year) I hope to continue that upward trend and get that number 1 spot!
I started my winter training on November 1st. It's all hard work now until a short rest period over Christmas and New Year before restarting my 2012 campaign in January.
My first week was very hard, the first one always is after a bit of a break at the back end of summer. I like to have a bit of a break before starting winter training; I find I'm always so motivated and excited to get started.
My week now consists of: 8 paddling sessions, 4 gym sessions, 2 land-based conditioning sessions, and 1 gymnastic based gym session. It's very intense but I'm really enjoying it and I'm feeling good.
I'm excited to see what benefits are going to come to the addition of a lot more functional/gymnastic type strength exercises coming into the gym program.
Adam's blog: 21/09/2011
After a bit of an easy period I'm beginning to get back into proper training. It's been good to have a bit of time off to do some different things - I'm so motivated to really hit this winter hard now! I've got a few ideas that I want to try out with training to mix it up a little and I've been doing some research in diet to help maximise the gains from my training.
I raced at the Interclub Championships in Bedford earlier this month, winning the C1M class, and my club (Stafford and Stone Canoe Club) came out on top once again. I quite like racing this event because it's very different from what we normally race on. The river is very narrow and shallow, with not much water going down it at all, unlike the big white water at the Lee Valley White Water Course in London.
The following weekend I raced the Paul McConkey Memorial Slalom - race number 7 in our domestic ranking series. These aren't races that those racing internationally take too seriously, but it is nice to do well. I finished 3rd in C1 and also in C2. The C2 result I'd consider to be good considering that was the first time Greg and I were back in a boat since the World Cup in Prague.
But in C1 I have to say I was a bit gutted. I had an awesome week's training, coming out on top in all the sessions, some by large margins. I was the fastest in the semi-final which meant that I was last boat to start in the final. I felt really good in my warm up and I could hear on the commentary some good paddlers messing up their runs.
I think I got a bit too excited to race and went too hard off the start, because I managed to incur a big time loss at gate 2. In trying to make up the time I lost little bits further down the course, but managed to finish in a respectable third place.
More importantly, this performance does secure myself a place at the selection series next April for the senior and Olympic teams. Good to get myself a place there early so I'm not under pressure trying to get it next year.
Adam's blog: 20/08/2011
August brought the end to my international season for the year. I spent the first couple of weeks out in Prague, Czech Republic for the World Cup Final. I was just racing in C2 there (with Greg Pitt), and although we performed very well in training leading up it didn't quite come together on the day of the race and we finished in 18th. That's slalom!
However I learned a lot and it highlighted some key areas that I need to work on between now and selection next summer. Between now and selection there are four domestic races, including the British Open at the end of October. I came very close to taking this one last year, winning the semi and then missing out by 0.1 seconds in the final, so I'm very keen to make sure I'm in good shape going into that one especially.
After that race I'll be fully into my winter training. It's important that between now and then I take the chance to do some different things whilst my training is a little less structured. I've decided this week to take a week of paddling to give my body a bit of a break from the strains of the white water, but I've continued with my gym work as this is a key area for me.
I've done some research and started to get some ideas down on paper for what my training is going to look like over winter. I'm keen to mix things up a bit and do it a little different. I think that'll be the difference between success or not next summer.
Myself and some other team members have arranged a short surfing holiday for the end of the month down south for a few days which will be good to try something a bit different. We'll also take some canoes down with us to do some training in the sea!
If you want to see what slalom canoeing looks like, I have uploaded some videos of me in action.