Olympic Dreams: Ali Jawad lifts himself up for 2012
By Boc Ly
BBC News, London
Last updated on .From the section Olympics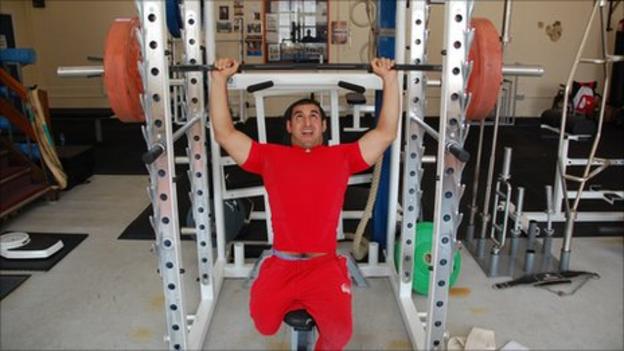 Powerlifter Ali Jawad has wanted a Paralympic gold medal since he was six-years-old.
His quest has taken him from Lebanon to London, involved a brief flirtation with judo, overcoming disappointment in Beijing and having to manage a debilitating illness that threatened to end his career.
Currently on a gap year of his Sports Science degree at the University of East London, Jawad, 22, of Tottenham, nonetheless finds himself using the campus gym at least three times a week.
He is now one of the world's elite paralympic powerlifters but, initially, he showed little enthusiasm for the sport.
"I didn't really think about weightlifting because to be honest I wasn't that strong. It was my friend forcing me to go to the gym when I was about 15 and a former national coach was there.
"He spotted me and thought I had some potential. If it wasn't for that, I would not have got into it."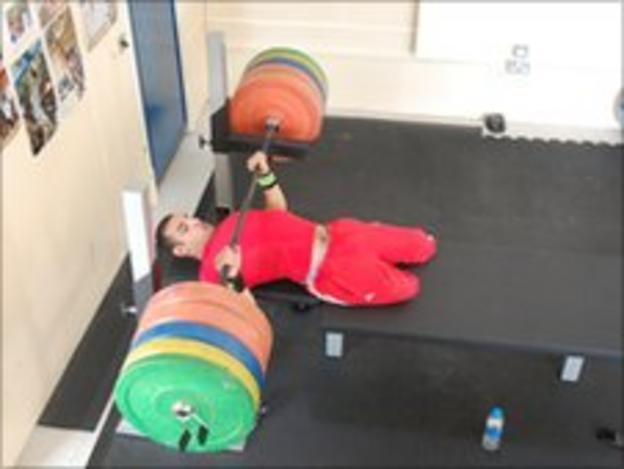 Quitting judo
By some roundabout way, it was the vagaries of judo competition that led Jawad towards weightlifting in the first place.
He was an international standard judo competitor as a teenager but when he discovered that there would be no category for him to compete in at the Athens 2004 Olympics he realised that he had to make a choice.
"If I carried on and represented GB at a Judo world championship or find another sport to compete at the Paralympics. That's why I quit judo."
Having made the decision and found that he could excel at powerlifting, Jawad then surprised everyone, including himself, by qualifying for the Olympics in Beijing.
However, his dream of competing in the Olympics quickly became a nightmare.
"I went into the Games in the best shape mentally and physically that I have ever been in but the night before I competed, I got very sick so I didn't perform very well," said Jawad.
It soon transpired that Jawad had Crohn's Disease, an inflammation of the gut that can cause diarrhoea, abdominal pains and generally feeling unwell.
"After Beijing I didn't compete for two years because I thought my career was over. A lot of the doctors didn't give me a prayer of coming back. The national team didn't think I was going to come back either."
Building up to 2012
Jawad has managed to prove everyone wrong, although he admits the best he can do is manage the condition the best he can, primarily by eating the right things.
"My diet is disgusting. It's boring and makes you quite depressed. I can't have chocolate or anything dairy.
"Unfortunately, a lot of times you don't know when Crohn's Disease is going to flare up. My job is to limit the flare ups if I can."
Having just recently come to terms with the illness it is only now that Jawad has got himself caught up in the excitement building around London 2012.
"It is 10 minutes away from where I live. I drive past the stadium every day. I have been suffering for so long with Crohn's that it just hit me that it was one year to go.
"This is my life. I've had this dream since I was six. I'm not going to let anything stop me."
Jawad was born in Lebanon with no legs, and his parents moved to London because they felt he could have a better life here.
By 2012, this could also be the city where his dreams finally come true.
Ali Jawad is one of BBC London's featured athletes as part of 'Olympic Dreams' in the build-up to London 2012.