BBC Olympic Dreams: Amy Conroy aims at basketball's best
By David Keller
BBC Norfolk
Last updated on .From the section Olympics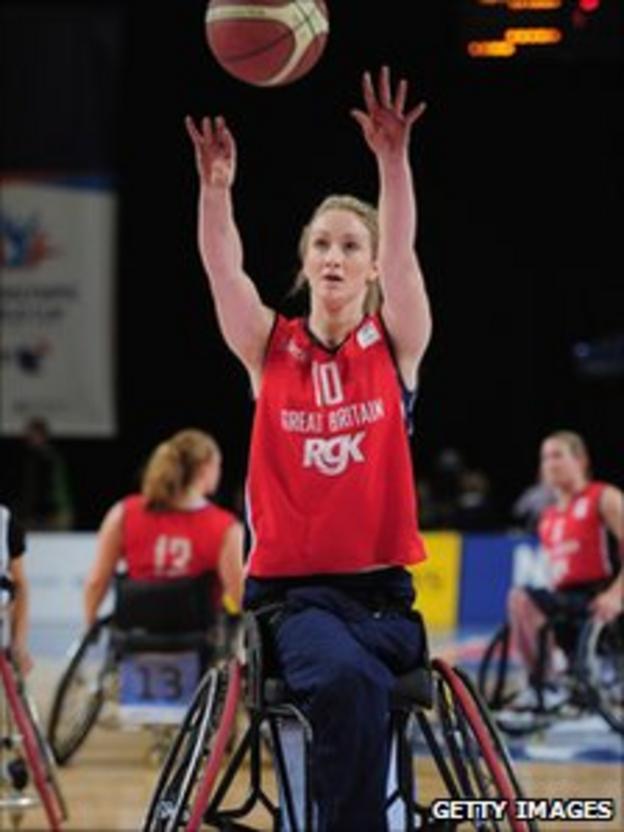 One word that could be used to describe Norfolk's up-and-coming wheelchair basketball star is commitment.
Another could be dedication or, if you want to talk about personality, bubbly or charming.
But the best word that comes to mind is determination - and sheer determination at that.
Things have not been easy for Norwich's Amy Conroy, currently seen shooting hoops for the GB Wheelchair Basketball team.
Losing a left leg to cancer during her teenage years, the 18-year-old sportswoman could have just given up her main passion in life - but instead she simply found something new to suit her disability.
And what the former netball player found was wheelchair basketball - a sport never short of excitement and something that offers the Notre Dame Sixth Form pupil a chance to shine.
"I just went for a taster day and saw some amazing players at basketball and I just thought, I want to be like that," said the A-Level pupil.
"Ever since then I've been training a couple of times a day, just to try and become one of the world's best players."
At a young age Conroy was diagnosed with osteosarcoma - a cancer that runs in her family.
After taking chemotherapy it sadly was not enough and her left leg had to be amputated.
The news was devastating for someone who as well as throwing a netball was always seen dashing around a tennis court or dribbling a football.
"Because I was in hospital I didn't do anything - I was in my bed the whole time," she said.
"I got pretty ill with chemo so I just lost all my muscle.
"First time I tried basketball I couldn't reach the bottom of the net."
But three years on the Bury Bombers member, who will play for Aylesbury next season, is at the top of her game and already has medals to prove it.
She grabbed a gold at the Paralympic World Cup in Manchester after defeating a talented German side and won a bronze after beating the Canadians on their home court at the Under-25 World Championships in July.
As an extra memento, she also came back from the other side of the Atlantic with a pretty impressive black eye, which according to Conroy is just "part of the game".
But the next big focus for Norfolk's best basketball hope is 29 August 2012 and the chance to wear the prestigious shell suit as part of Britain's Paralympic squad.
After her A-Levels Conroy's taking a gap year to focus more on London 2012, despite already training twice a day.
Remaining modest at her chances of shooting in the final squad, Conroy's confident that wheelchair basketball and the Paralympics as a whole will gain the publicity she believes it fully deserves when it comes to the capital next year.
"There's been a lot more media interest in wheelchair basketball recently, it's such a great game," she said.
"It's fast and you have to be fast mentally, it's competitive, it's a lot of contact.
"I really hope I am [selected], I'm so excited about it.
"To play in front of a home crowd would just be amazing and especially as the team are improving so much it'll be good to do really well in front of friends and family."
Amy Conroy is one of BBC Radio Norfolk's featured athletes as part of Olympic Dreams in the build-up to London 2012.