London 2012 Paralympics the target for Mel Nicholls
Last updated on .From the section Olympics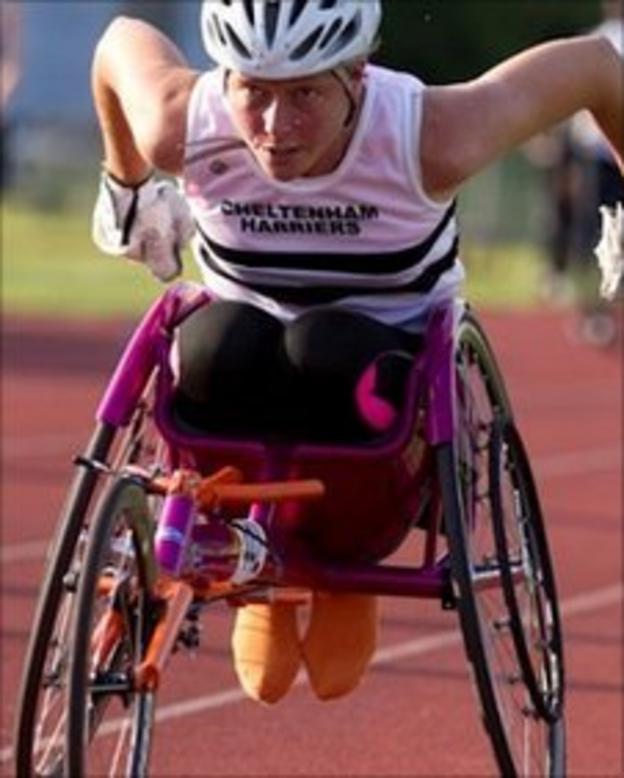 Mel Nicholls is showing potential to compete at the 2012 Paralympic Games in London after just 18 months of racing.
The 34-year-old wheelchair racer has the 100m and 200m Paralympic qualifying times, but still hopes to go quicker.
Nicholls told BBC Gloucestershire: "My next major races are in Switzerland on 13 August on a very fast track.
"The sprints are very competitive, with a lot of strong racers and I still need to get faster to guarantee a place at London 2012," Nicholls added.
The athlete competes for Cheltenham and County Harriers between 100m and 800m, but only 100m and 200m are included for her classification at London 2012.
In October 2010 Nicholls was classified by UK Athetics as a T33 athlete - a wheelchair racing group separate from the para and tetraplegia T52-T54 groups.
Nicholls has seen her personal bests fall since she started using a new custom-made chair at the start of the summer and is hoping to continue her progress: "It's been a steep learning curve, the chair's new - there are always going to be a few teething problems, which there has been.
"I'm hoping I'm getting to grips with those now and it's going to be a steady incline in the right direction."