BBC Olympic Dreams: Anne Bochmann aims for 2012 glory
By David Keller
BBC Norfolk
Last updated on .From the section Olympics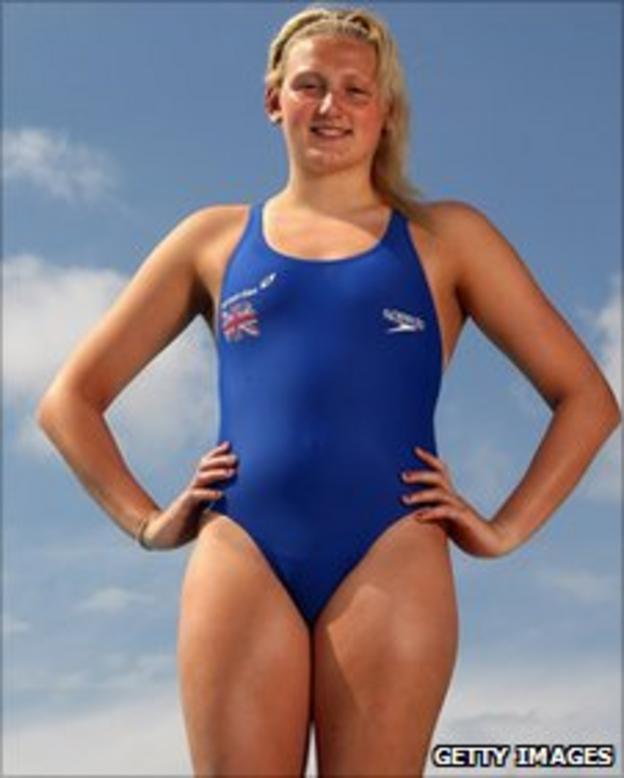 Anne Bochmann is a 17-year-old who has the world at her feet.
But it's not just a pair of healthy feet she needs for the world to take notice of her at London 2012.
It's her arms, legs, lungs, heart - but also her back, which has caused more than its fair share of problems recently for Norfolk's swimming hopeful.
Preparations for Bochmann's Olympic dream nosedived at the end of 2010 with an injury that left the Norwich-born athlete out of the water from November until March.
But despite not feeling 100%, she managed to come within two seconds of her personal best when competing in the final of the 400m Freestyle at this year's youth nationals.
Step back nine months, a time of 4:08:30 guaranteed the A-Level pupil, who now lives in Leeds, a fourth-place finish in the 400m Freestyle at the Commonwealth Games in Delhi, which launched the teenager into the spotlight.
But the Commonwealths were also important for the British swimmer in terms of life skills and learning to cope where many fail - performing in front of thousands of people watching you on the main stage.
"Through swimming you travel to so many places and get to see so many cultures and meet people from all over the world," said Bochmann.
"It certainly helps with your confidence just talking to people and standing on the big stage. Especially at the Commonwealth Games, where it was also on telly around the world. You definitely learn to handle the nerves."
With the Olympics in her sights, training takes place ten times a week, consisting of 20 hours in the pool and added time at the gym.
Sport however is not the only thing in the bright young lady's life. Eventually she'd like to study medicine, but university for the time being has been put on the back-burner.
"You can't do sport at any age, you only have a short window," said Bochmann.
"You can do education at any time. I've always had high expectations of myself, but doing medicine at the same time as swimming would be too much.
"I think it's going to be strange when all my friends leave for university. But in a way I can be quite proud to say I've got my own house with three swimmers that I live with.
"I pay my own bills, so it's a sense of independence and a nice feeling to say I'm doing this for myself."
With her parents backing every stroke - even her "unsporty" dad - London will be calling before Bochmann knows it, and she cannot wait to glide through that 0.13 of a second that kept her out of competing in Beijing at just 14 years old.
"I've always dreamt of it. There's nothing like an Olympic Games anywhere in the world, but a home crowd will be absolutely insane," she added.
"It's the once in a lifetime opportunity. It will be an amazing experience, so hopefully I'll be a part of it."
Anne Bochmann is one of BBC Radio Norfolk's featured athletes as part of Olympic Dreams in the build-up to London 2012.