Olympic Dreams: Rider Sophie Wells beats horse allergy
Last updated on .From the section Olympics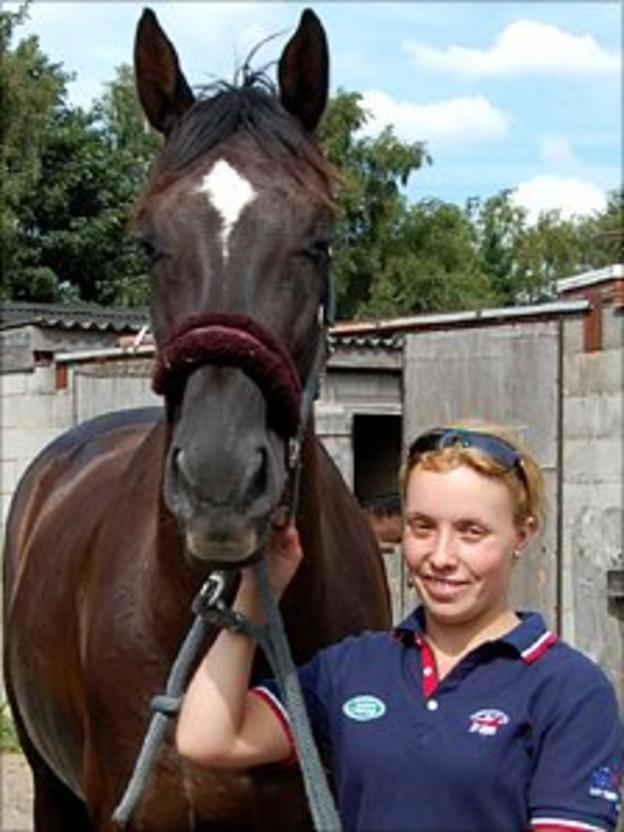 Team GB hopeful Sophie Wells has overcome a severe allergy to horses to become the reigning World and European para-equestrian dressage champion.
The Nottinghamshire rider will compete at the European Championships in Belgium in September but is already counting down to London 2012.
"It's spine tingling to think about," said the 22-year-old from Newark.
"Sometimes I've got to stop myself and concentrate on what I've got to do to get there."
Wells started riding at the age of six having been encouraged to "try everything" by her parents.
"The fact that I couldn't see and was sneezing all the time didn't put me off," she said.
Wells was born with amniotic band syndrome which caused her to lose some of her fingers but she was thankful surgeons saved her feet.
"I've got bands around my lower legs and I have nerve problems because of the constriction," she said.
"My legs have deteriorated as I've grown up. It is a little bit frustrating but it makes me appreciate the good days.
"I can still ride, which is amazing," she said.
Wells became the first para-equestrian rider to be selected for an able-bodied team in 2010, when chosen for the Young Rider European Championships in Germany.
She competes in the grade IV category of the para-equestrian dressage.
"My parents always pushed me to do the same as my brother," said the rider who trains out of stables in Papplewick.
"I was never treated as if I had a disability."
Sophie has already qualified as a rider for the Olympics but selection for the GB team won't happen until much closer to the Games.
"From the age of 13, my long-term aim was always London 2012," she said.
"Now it's just round the corner it's a little bit intimidating and nerve-wracking but I've learnt with horses you just take one day at a time."
Sophie is one of BBC Radio Nottingham's featured athletes as part of 'Olympic Dreams' in the build-up to London 2012.