Olympic Dreams: Rebecca Peake steps up coaching
Last updated on .From the section Olympics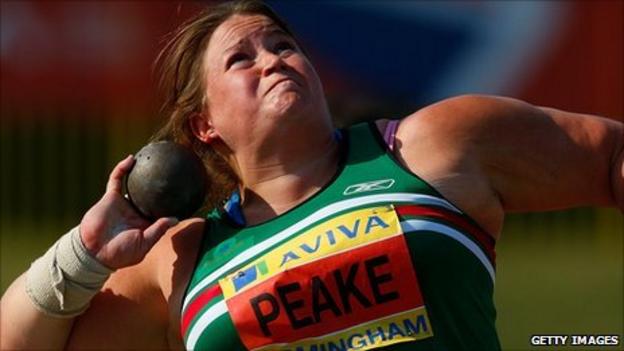 Derbyshire shot-putter Rebecca Peake is travelling to Holland for fortnightly training sessions in an effort to achieve her dream of an Olympic medal.
The 28-year-old has employed Dutch coach Gert Damkat to help her hone her technique for her first Olympics.
Peake, from Kilburn, hopes to build on her fifth-placed finish at last year's Delhi Commonwealth Games.
"Gert has coached people to throw a lot further than I've ever thrown," said the Loughborough College lecturer.
Peake said she hopes the upheaval will prove worthwhile.
"It is a big sacrifice, and it's hard because when I'm there, there's nothing to do but train. It can be quite lonely," she said.
Peake has also changed her shot-putting style - from glide to rotational - in a bid to improve her throwing distance.
The change has already proved beneficial. Since switching, Peake has been throwing a metre further in training.
She cites American shot-putter Jill Camarena as a benchmark.
"She broke the 20m barrier for the rotational technique. The first ever person to do that," she said.
Despite the Olympics being held in London, many athletes, including Peake, will not find out whether they will be going to their home Games until a month before the event starts.
"You've got to prepare as though you're going," she said.
Peake conceded that if British athletes do not meet the standard, they would not be going.
She said: "It's not like you'll see people from this country in every event. That's not going to happen.
"I'm just working on each week at a time at the moment. I've got a coach that's got quite a structured programme, building up towards the Games."
Rebecca Peake is one of BBC Radio Derby's four featured athletes as part of 'Olympic Dreams' in the build-up to London 2012.