Parents rooting for latest Olympic hopefuls
Last updated on .From the section Olympics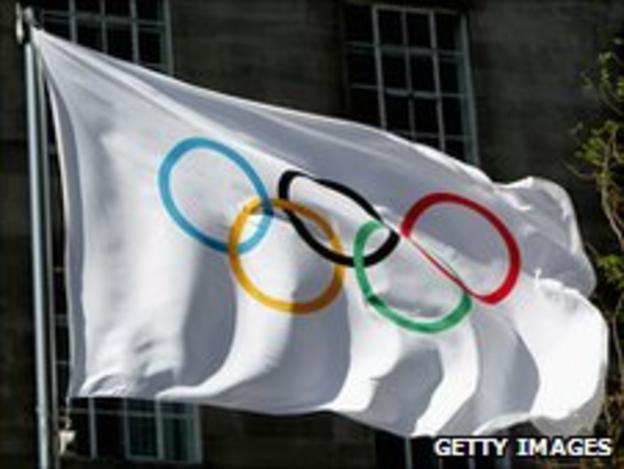 As hundreds of Olympic hopefuls train, compete and wait to see if they will make their squad for the 2012 Olympics there are even more parents holding their breath, fingers crossed.
Providers of support - both emotional and financial - they can now only wait and hope.
Kathleen and Vincent Clark, from South Shields, are two of many who have encouraged a young interest in sport and seen it flourish.
Their daughter, Sarah, represented Team GB in Judo at the 2008 Olympics in Beijing.
Her interest in Judo came from two boys at school, said Mr Clark: "They used to talk about it and Sarah came home one day, 'Dad, Dad, I want to go to Judo'. So I says alright, we'll have a little look into it.
"Three weeks later she was still saying 'Dad, Dad I want to have a look at Judo'. So we found a local club and took her down and that's were it all started."
Nora and Stewart Eddie, from Durham, also started early.
Their daughter, Jess, also a Beijing Olympics veteran, began rowing with her twin sister, Alexandra, when she was eight.
"She was always sporty," said Mrs Eddie, "The twin sisters played every sport available at school."
When they were 14 they were selected to row for Great Britain against France, "which was a big surprise". At that point the Eddies realised their daughters had talent.
Supportive parents 'essential'
Nurturing that talent required, at its most basic level, a lot of Mrs Eddie's time and petrol, ferrying her children to and from the local rowing club.
She said: "She had to be there 7 o'clock-ish because I had to pick them up in time to get them back for school and I had to get to work.
"And then, when they came home from school and I came back from work, I took them down to the rowing club again until 7 o'clock in the evening."
Mrs Eddie thinks supportive parents are essential if young sporting people are to reach the top of their game.
She said: "We could have had better holidays and newer cars but we decided to put all our money into buying them both a boat, which was several thousand pounds each, and ferrying them about all over the country every weekend."
Mr Clark agrees: "I think you need parents behind the kids. I think there's very few children would have taken up a lot sports if they didn't have their parents in the first place to introduce them to the sport and help them stick at the sport."
There are rewards, though, for the time and money spent and for the emotional investment.
Travelling all over Europe, watching them compete and meeting the other parents is "wonderful", said Mrs Eddie.
Mr Eddie stresses that there are more ups and downs and "there's always somebody comes second" and Vincent Clark agrees.
He said: "I've travelled away quite a few times to see Sarah and that's really exciting to go and watch her.
"The downside is when she doesn't compete very well in a competition and she gets quite upset about it."
Mr Clark said: "It doesn't matter whether you're there or sitting and watching it at home, the nerves are terrible. I have been to a lot of competitions since the age of nine and it doesn't get any better."
But, he said, the possibility of a win makes it worth it: "If Sarah got a medal? It just means everything. All the hard work, the years of training, it would just come to fruition."