Olympic sport this week
Last updated on .From the section Olympics
The week's highlights include cycling gold for Mark Cavendish and sailing gold for Ben Ainslie in Olympic test events and a surprise World Championship silver medal for GB badminton pair Chris Adcock and Imogen Bankier at Wembley Arena.
CYCLING<p>
Manxman Cavendish, who won this year's Tour de France green jersey for the fastest sprinter, completed the 87-mile course around London and Surrey in three hours, 18 minutes and 11 seconds. Sacha Modolo of Italy was second and France's Samuel Dumoulin was third.
This year's route is shorter than the one the men will tackle at the London Olympics.
In 2012, seven more large loops will extend the men's race to a distance of 155 miles (250km), while the women's race distance will remain 87 miles (140km).
SAILING<p>
Three-time Olympic champion Ben Ainslie led the way as Britain's sailors took six medals at the Weymouth and Portland International Regatta, which doubled as a test event for London 2012.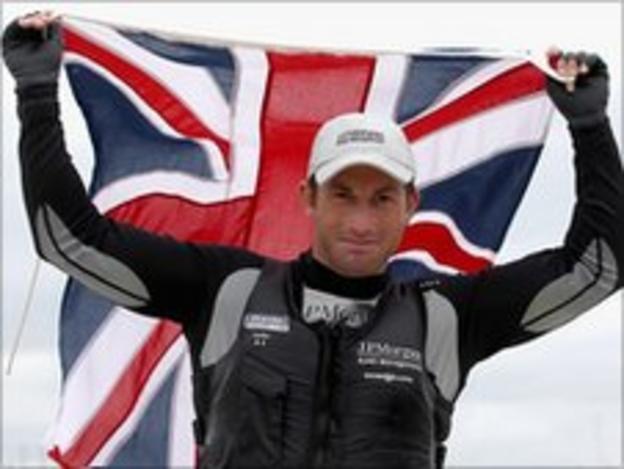 Ainslie was the only home gold medallist, underlining his Olympic gold-medal prospects with an emphatic victory in the Finn class.
The new 470 partnership of Hannah Mills and Saskia Clark took a step closer to earning their London 2012 selection after claiming silver.
They went into the decisive medal race just one point ahead of their nearest rivals, Japan's Ai Kondo and Wakako Tabata, but were edged out on the line.
There was also silver for Olympic champions Iain Percy and Andrew Simpson in the Star class, as well as windsurfer Nick Dempsey. Bryony Shaw took bronze in the women's windsurfing and Olympic champion Paul Goodison was a close third in the Laser behind his arch rival Tom Slingsby.
BADMINTON<p>
The Great Britain mixed doubles pair Chris Adcock and Imogen Bankier won a surprise silver medal at the World Championships, held at Wembley Arena.
Adcock and Bankier - ranked 20th in the world - beat four seeded pairs en route to the final, where they were beaten 21-15 21-7 by China's Zhang Nan and Zhao Yunlei.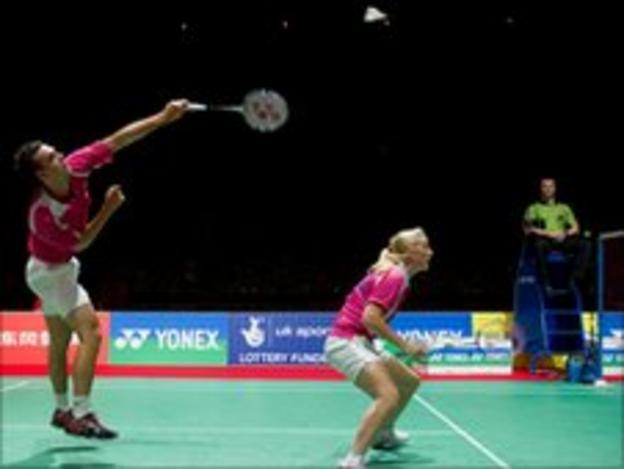 That gave China a clean sweep of gold medals for the third time in World Championship history.
Olympic champion Lin Dan survived two match points to claim his fourth men's singles world title at the expense of top seed and arch-rival Lee Chong Wei.
Top seeds Xiaoli Wang and Yang Yu won the women's doubles while Cai Yun and Haifeng Fu won the men's doubles gold.
Adcock and Bankier's participation in next year's Olympics is not assured, despite this success. Nathan Robertson and Jenny Wallwork remain Britain's top-ranked pair and a country can only qualify two pairs if they are both ranked in the world's top eight when the qualifying period ends on 3rd May 2012.
BASKETBALL<p>
Chicago Bulls star Luol Deng will play in this week's Olympic test tournament after insurance issues were resolved. His season's debut for Great Britain is expected to be against the powerful Serbians on Thursday, 18 August.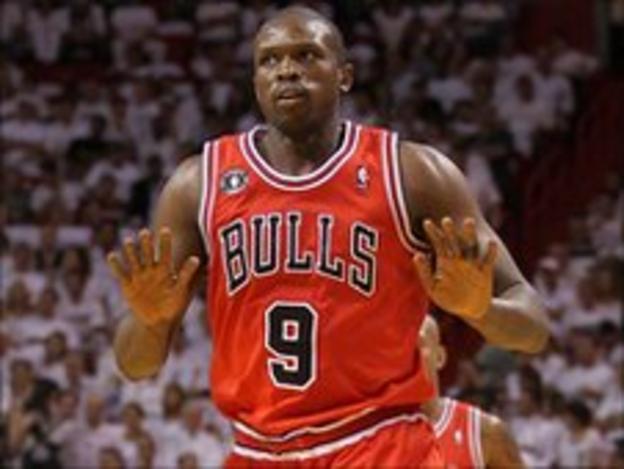 In the absence of Deng, Britain's men opened their summer campaign with two convincing wins in three days - 96-70 over Netherlands and 95-80 over Nigeria - in their warm-up games in Cobham.
Coach Chris Finch opted for youth and 20-year-old Ryan Richards and 18-year-old Devon Van Oostrum produced strong performances to earn places on the senior squad, with regulars Flinder Boyd and Kieron Achara the surprise exclusions.
Great Britain are playing China, France, Australia, Serbia and Croatia in the new Olympic Basketball Centre this week.
BEACH VOLLEYBALL<p>
Great Britain's Denise Johns and Lucy Boulton just missed out on the podium at the London Prepares test event at Horse Guards Parade.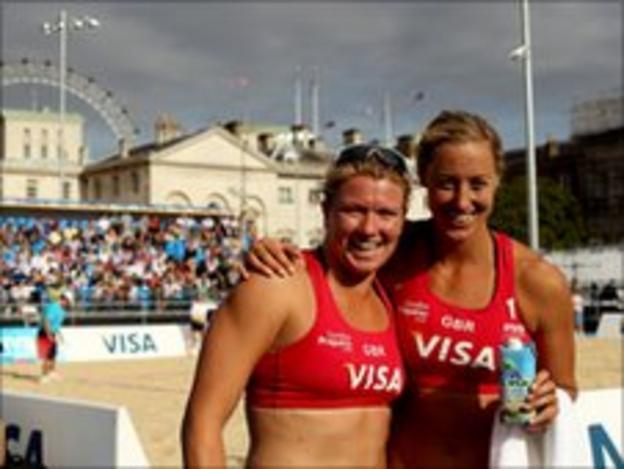 They lost their bronze-medal match to the experienced Brazilian pair of Vivian Danielle da Conceicao Cunha and Taiana Lima 21-19 21-18.
A capacity crowd of 1,500 watched the bronze-medal match at Horse Guards Parade on Sunday, with 15,000 supporters expected to attend the Olympic event next year.
Gold went to another Brazilian pair, Liliane Maestrini and Angela Vieira, who came from behind to beat Americans Jennifer Kessy and April Ross 10-21, 21-15, 15-13 in the final.
ATHLETICS<p>
Two of the fastest men in the world this year have failed drugs tests.
Jamaican sprinter Steve Mullings, third in the 100m rankings with a blistering 9.80 seconds, was the first to test positive for a banned substance last week.
Mullings served a two-year ban for testing positive to testosterone before the 2004 Olympics. He now faces a minimum four-year ban.
Days later, the former USA 100m champion Mike Rodgers tested positive for a banned stimulant. Rodgers, the fourth-fastest man in the world this year, is now a doubt for the World Championships in South Korea at the end of the month.
His agent Tony Campbell said the 26-year-old had mistakenly drunk an energy drink which contained the stimulant.
OTHER NEWS<p>
A private British company and the investment arm of the Qatari ruling family have bought the London Olympic athletes' village.
The joint deal, between real estate investment company Delancey and Qatari Diar, was worth £557m. Their plans for the site are to turn nearly all of their share of the 2,818 residences in the Olympic athletes' village into rental accommodation.
Lord Coe insists that despite last week's England riots, London is more than capable of staging next year's Olympic Games.
"I am confident that we will have contingency plans in place and be prepared for all eventualities in a year's time - treat it in a way as a test," Coe, chairman of the London Organising Committee for the 2012 Olympic Games (Locog), said.
Basketball: Olympic test tournament, London (16-21 August)
Canoeing: World sprint championships, Hungary (18-21 August)
Cycling (BMX): World Cup, Olympic test event, London (19-20 August)
Hockey: European Championships, Germany (20-28 August)
BBC Sport produces this document for its talent and production staff and we thought you might enjoy it too.