Olympic Dreams: Wakefield's Martyn Bernard looking for London 2012 success
Last updated on .From the section Olympics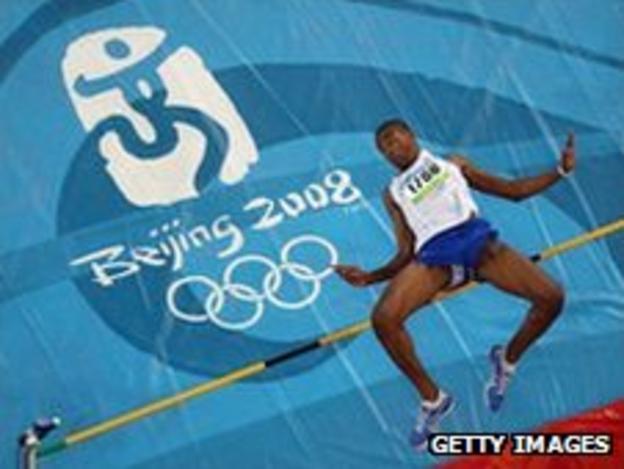 Martyn Bernard admits his first venture to the track was an attempt by his parents to tire him out.
Now, the Wakefield-born Olympian has risen from a hyperactive child to one of the best high jumpers in the country.
But with under a year until his second Olympics in London, the 26-year-old wants to better his ninth place finish at Beijing and is looking forward to competing on the biggest stage on home soil.
Bernard told BBC Radio Leeds: "I'm looking forward to London because, instead of a Chinese crowd, it's going to be a British crowd with a lot of Londoners in there and hopefully people from Leeds and Yorkshire."
The Wakefield Harrier has shown his potential internationally winning silver at the 2006 Commonwealth Games, as well as a bronze in the European Championships in Barcelona in 2010.
As well as picking up major international honours in athletics, Bernard has also found the time to pick up academic awards.
With a Psychology degree from Liverpool John Moores University under his belt, he is currently working towards a Law degree from Middlesex University.
But with London 2012 fast approaching, the training will step up a gear for Martyn with warm weather trips planned to South Africa at the end of the year, plus six weeks in Los Angeles as well as the holding camp in Portugal just before the Olympics.
"The training is just a part of it; it's not my biggest enjoyment. I like going out and competing, so the training for me is just a way of getting me out there.
"Having said that, I do train with some really cool people - Marlon Devonish, Christian Malcolm and Greg Rutherford.
"I've got a lot of people in my group who I do like training with, so it's more of a relaxed atmosphere and people go down to the track and chill out and have fun. And get a little bit of work done as well!"
Bernard currently lives in London and trains at the Lea Valley Centre with coach Dan Pfaff but tries to get back home to Yorkshire when he can.
"My parents still live up in Wakefield and obviously as do friends from my school days so I do go back and forth every now and again.
"I like to check out a bit of Shakey Wakey and go back to my roots."
But with the ultimate ambition of a podium finish at the Olympic stadium in front of 80,000 fans, it will make those long training sessions seem more bearable.
"It would mean everything. I've obviously won a couple of medals in the past and that was fantastic.
"But to win a medal on your home soil at the biggest stage as well, it's something that everyone would dream of.
"I'm just hopeful that I can get there injury free, and make sure I put everything into it and leave knowing I've trained my heart out and I've done everything I can to potentially get a medal."
Martyn Bernard is one of BBC Radio Leeds's three featured athletes as part of 'Olympic Dreams' in the build-up to London 2012.