From nine to five to Paralympics for Danny Nobbs
By Ronan Sully
Kick-Off reporter, BBC Radio Norfolk
Last updated on .From the section Olympics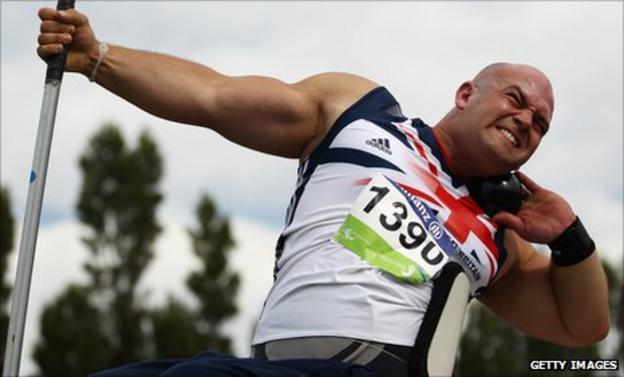 When people talk about sabbaticals, it generally makes you think of escaping the graft of a working day.
For Norfolk's Danny Nobbs, however, a year off work means putting all his efforts into preparing his shot-putt technique for the upcoming Paralympic Games.
With less than a year to go until the opening ceremony in London, the 31-year-old has taken time out to apply the finishing touches to his preparations.
"The next 12 months will be smoothing the way and fine tuning everything we've been working on," he told BBC Radio Norfolk.
Despite being one of the world's leading Paralympic shot-putters, Nobbs works full-time in order to fund the extensive training, travel and equipment costs that face many elite athletes.
Throughout his career, he has been forced to balance regular training sessions near his home in South Norfolk and at Lee Valley Athletics Centre in east London, with working at Aviva in Norwich.
Nobbs feels funding plays a large role in an athlete's development.
"It's a catch-22 situation," he explained. "The level of funding you receive is dependent on performance and obviously your level of performance is dependent on the amount of time you can commit to training."
A keen sportsman in his youth, Nobbs was left paralysed from the chest down following a motorcycle accident at the age of 17.
Having played both football and cricket at county level, his relationship with sport changed dramatically.
"To be honest I couldn't see how I was going to get back into sport," he said.
It was only after taking part in the Great North Run to raise money for a friend's daughter who had been born with cerebral palsy, that a desire to compete was rekindled.
A stint in wheelchair racing reintroduced him to competitive sport, but it was in field athletics that he excelled.
"Ironically I still held the schools record for the shot put from before I had my accident, so it felt like a natural progression," he said.
Danny is one of a number of athletes who have benefited from recent developments in the sports facilities at Norfolk's Easton College.
Under the tutelage of top throwing coach Tim Newenham, he not only trains at the college's performance centre, but has negotiated the construction of an area specifically tailored to fit his throwing frame.
"The guys at Easton College have been really supportive," he added.
"The students have got involved in the construction of the concrete base for me to throw outside - it's great."
While the hard training may be behind him, Nobbs is staying focused on qualifying for 2012.
"I'm certainly excited but the first goal is to make the team at the first opportunity," he said.
"We're working hard in the qualifying competitions to reach those targets to then, hopefully, get selected."