Olympic Dreams: James Dasaolu looks to end injury jinx
By Philip Jones
BBC Kick-off
Last updated on .From the section Olympics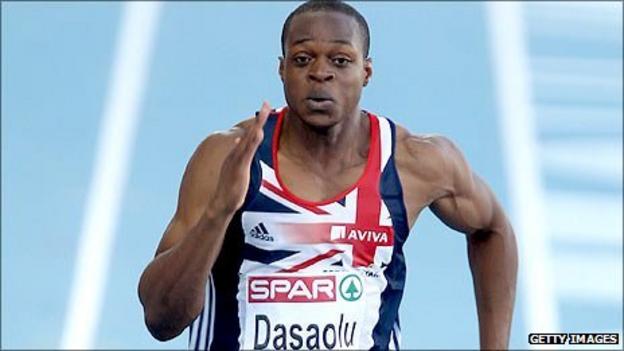 Britain's second fastest man this year James Dasaolu hopes he can move on from the injury jinx that was threatening to wreck his Olympic dream.
The 24-year-old clocked 10.11 seconds for the 100m in May but a hamstring injury has ruined his season.
Dasaolu missed the World Championships but is back training at Loughborough and focused on London 2012.
"The body's like a puzzle and I'm always missing a bit, hopefully I can put the puzzle together," he said.
"It is a disappointment but it's a chance for me to get ready to compete in an Olympic games next year."
The London-born sprinter was inspired to take athletics more seriously in the summer of 2005 when the Olympic Games were awarded to his home city.
Then 18-years old, he chose to move to Loughborough and train with Michael Khmel whilst studying for a degree at Loughborough College.
Settling into life as an elite athlete he made quick progress and was soon competing with the best sprinters in the country.
He told BBC Radio Leicester: "My first three years were really, really good but I've been disappointed with the last two years. I feel the last two AAAs [British Championships] have been pretty stagnant.
"I ran 10.09 in 2009 but I've had injuries and struggled through since then. I hope I can progress again next year."
Looking to build on a semi-final appearance in his first appearance in a Great Britain vest at last year's European Championships, James began this year with a bang.
Running his first races of the season in Geneva he clocked times of 10.11 and 10.12, but could only manage one further race before injury brought a premature end to his year.
He said: "It's quite upsetting but it gives me confidence to know that as long as I'm fit next year I will make the team."
And Dasaolu is determined to not let injuries stop him from making the most of a once-in-a-lifetime opportunity to compete in a home Olympics.
"It is in London where I grew up, and having your family around does make it that bit more special," he added.
"Competing in the Olympic Games, not just the greatest show on earth but the greatest show on earth being in your home town, will add that bit more buzz to it."