Sport England failing participants says Richard Caborn
Last updated on .From the section Olympics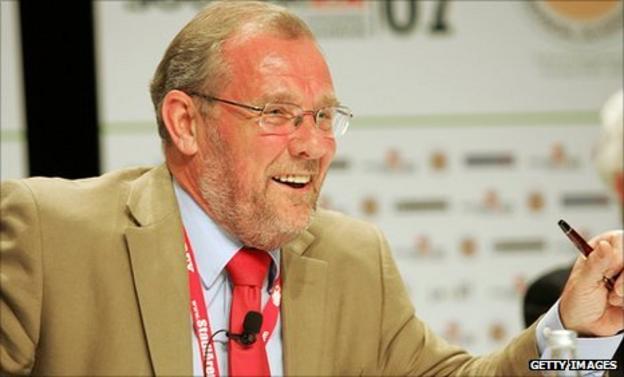 Former sports minister Richard Caborn has hit out at "disastrous" results in the drive to boost sports participation on the back of the London Olympics.
Caborn says Sport England's aim of increasing participation by one million people is facing "complete failure".
Sport England figures say 21 sports have seen a decline in participants since 2007/08.
"The Olympics will be a spectacular success but we are not capitalising on that," Caborn said.
"We are in danger of failing completely on the long-term sporting legacy of the Games.
"There needs to be a major change of direction in the strategy on this if the disastrous decline experienced by many of the sports is to be reversed."
Figures published by funding body Sport England earlier this year showed hardly any progress has been made towards hitting the target of 7.815m people playing sport three or more times a week by 2012/13.
The latest result from the quarterly Active People survey showed the figure at 6.881m, only a slight increase on the 2007-08 figure of 6.815m. Nine sports saw an increase, as opposed to the 21 that witnessed a decline.
Caborn claims the reason for the failure is that in 2008 it was decided that Sport England should merely fund governing bodies instead of involving local authorities and regional sports councils in boosting participation. Sport England insist however that is not the case.
Caborn added: "The key to this is Sport England changed the strategy in 2008 and has basically been just acting as a bank, funding governing bodies.
"They have failed on just about every count. They are responsible for the structure of grassroots participation and now need to change course and provide leadership."
The 67-year old will make the claims in a keynote speech to the annual meeting of the Sports and Recreation Trust Association (Sporta) in Birmingham on Wednesday.
Sport England's chairman Richard Lewis insisted participation levels were rising but admitted the rate of increase needed to rise much quicker.
Lewis said: "The number of people playing sport is increasing, but the pace of change needs to increase significantly over the next 12 months and beyond.
"Sports such as cycling and netball are already demonstrating what can be achieved through innovative approaches that focus on what people want from grassroots sport.
The Government insisted there was more to sporting legacy than just participation.
A spokesperson for the department of culture, media and sport said: "Creating a sporting legacy from London 2012 is a key pillar of the Government's sporting strategy.
"A national School Games sporting competition, an investment of £135m in grassroots sport through Sport England's 'Places People Play', together with the very real prospect of significant British success in the Games next year, will create a springboard for a fitter, healthier and more confident nation in the years to come."