Olympics pair are honoured by Loughborough College
Last updated on .From the section Olympics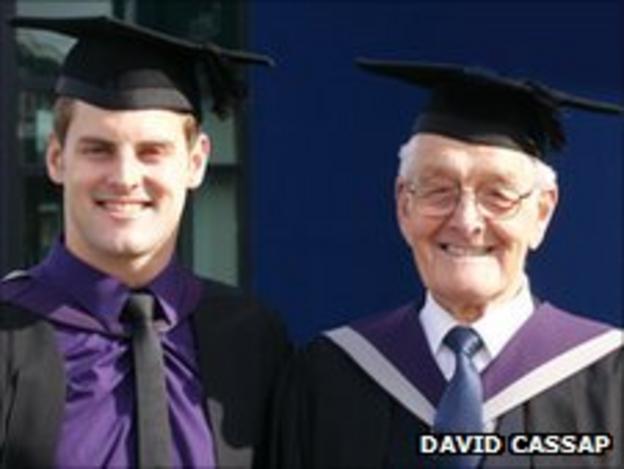 Two generations of British Olympians were honoured by Loughborough College at its recent graduation ceremony.
Godwin, 90, was informed of the award on a recent college trip to the Olympic museum in Switzerland.
He told BBC Radio Leicester: "It was something I never expected in my life. When I read the letter I broke down."
Godwin won two bronze medals in track cycling at the 1948 London Olympics and first became involved with the college through a chance meeting with Chris McGeorge, elite athlete education officer at the college.
"That handshake made me feel that I'd got a friend for life. Every time we meet now I feel that we're more sincerely involved from both sides," he added.
Both Godwin and Tancock's passion to spread the Olympic spirit has seen them work as ambassadors for the 'Flames: Lighting The Way' initiative.
The scheme takes them to schools in Leicestershire where young people are encouraged to volunteer and become leaders for inclusive physical activity.
"I love meeting people, I love talking to people and I love the feedback from people," Godwin continued.
"I speak from the heart and that's why I get so emotional. I just like to impress on young people the value of life and how to conduct yourself. "
The scheme also offers children the chance to hold a piece of Olympic history as Godwin displays his prized bronze medals and the children get a chance to run with an original 1948 Olympic relay torch.
Backstroke specialist Tancock is yet to win an Olympic medal but is keen to add one to his two world titles at the London Olympics.
He said of Godwin's contribution: "Looking at Tommy's smile today, you can tell how much he's enjoyed it. If he's been doing that for 60 plus years then I can't wait for my next 60 years."