Gymnast Sam Oldham eyes Olympic qualification
By Phil Jones
BBC Kick-off
Last updated on .From the section Olympics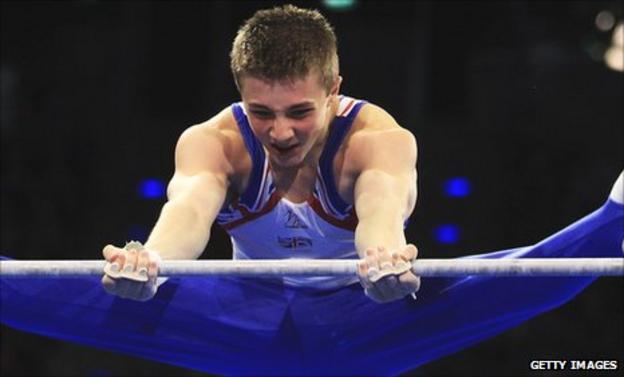 Gymnast Sam Oldham says he has his eyes on qualification for the Olympic Games in London next year.
The Nottingham-born teenager, who is now based in Loughborough, will travel to Japan with the GB squad for October's World Championships.
Team GB need a top-eight finish to secure their London 2012 place.
"The World Championships is a massive event and our target is qualification for the Olympics," Oldham told BBC Radio Leicester.
"For me there's no better feeling than achieving that success, or what you've been dreaming about, with four or five other guys who have been dreaming of the same thing.
"It's an amazing feeling when you nail that high-bar routine and there's five guys there waiting for me, ready to give me a high-five."
That feeling of contributing to a team could be put down to his time spent as a footballer at the Notts County centre of excellence.
Oldham was signed up at the age of eight and, when the Magpies decided to close their academy, he had offers on the table from Nottingham Forest and Derby County.
But he chose to continue with gymnastics rather than football.
"It wasn't an easy decision, my dad was a footballer at Forest and my grandad was at Notts County," added Oldham.
"I'd been doing football for years on top of my gymnastics and at the time I was on a four-year contract, so I was doing pretty well.
"It was just getting a bit too much; I was going to the gym in the morning at 7am and getting home from football training at 10pm.
"I started missing a few matches because of competitions and it was just more of a natural path for me; so far it's worked out pretty well."
With Oldham's focus solely on gymnastics and having moved to train at Loughborough University's gymnastics research centre, his decision has paid off.
Multiple gold medals have been achieved in junior international competitions, the most significant coming in the inaugural Youth Olympics in Singapore last year.
And his success at junior level was rewarded as he made his debut in a senior international competition at this year's European Championships, finishing with a fourth place in the high bar final.
This performance clearly impressed the Great Britain coaches and he has now been selected in the squad for October's World Championship's in Japan, but Oldham is taking nothing for granted
"Things can change at any time so you've still got to be 100% focused as anything can happen, especially in a sport like gymnastics," he added.