Rower Greg Searle says Britain can win 20 golds at 2012
By Jessica Creighton
Olympic sports reporter
Last updated on .From the section Olympics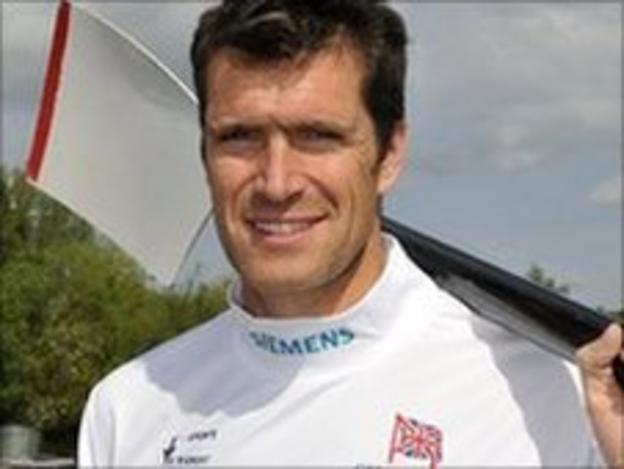 Veteran Olympian Greg Searle believes Great Britain should set their sights on 20 Olympic golds at London 2012.
And the rower, who won gold in Barcelona in 1992 and came out of retirement two years ago, expects his sport to play a major part.
"I think we can get ourselves towards a golden number of 20, which would be amazing as a whole Team GB," he said.
"If rowing can make a really significant contribution we will all be very proud."
Speaking as the GB rowing squad returned to training at the start of the 2012 season, Searle continued: "It's really exciting to be part of such a successful Team GB.
"The rowers, the sailors, the cyclists, and even on the track, we can win a good haul of medals."
There was some surprise in 2008 when Great Britain finished fourth in the medal table in Beijing, with 19 gold medals, but the team have targeted the same spot in the table in 2012.
Searle, who left the sport after the 2000 Olympics, said: "I know how amazing it was in Sydney, how special it was in Barcelona.
"I know we need a really good home team performance so people will really enjoy it and we can make them proud."
British cyclists provided eight of those golds in Beijing, while there were two for the rowing team - who also won two silvers and two bronze - four in sailing and one in athletics.
Rule changes mean that cycling could struggle to match that haul again.
But GB Rowing can be confident of improving their tally, having won three golds and seven other medals in Olympic-class events at last month's World Championships.
That haul included a silver for Searle as part of the men's eight and gold for Katherine Grainger and Anna Watkins in the women's double scull.
GB also qualified crews for 2012 in 13 of the 14 Olympic events, and can expect to reach at least the final six in each of those events.
Searle and his crew were frustrated to finish behind the German eight for the second successive year at the World Championships in Slovenia.
Looking forward to 2012, he admitted: "To win two silver medals at the World Championships is something that doesn't happen very often but we still want to do better.
"I'm very confident we can do a lot this year to make us faster."
Scot Grainger opted to continue for another four years in the hope of gold after winning her third successive silver in Beijing.
And she is widely tipped to take the Olympic title after she and Watkins won their second world title, despite having little time together as Watkins struggled to overcome a back injury.
"Although the margin wasn't as impressive as last year it almost meant more because we had so much to overcome," Grainger told BBC Sport.
"And it gives us a lot of confidence going forward that we were below par but finished on top.
"There is a huge expectation now but would I really want to have lost the World Championships to take that pressure off? No.
"There is a pressure from being reigning world champions but that's a brilliant pressure; everyone would want that. It means everyone is focusing on us and we're focusing on the finish line."
Grainger first joined the national team in 1997, a year after the sport provided Great Britain's only gold medal in Atlanta.
"I came in the team a few years ago now and it had a history of success - the likes of Steve Redgrave and Matthew Pinsent - but it was one or two boats," she said.
"Now in almost every category we have boats that are potential medal winners. It's so inspiring to be in a team that's successful."