50 worldwide contenders for 2012: Ryan Lochte
Last updated on .From the section Olympics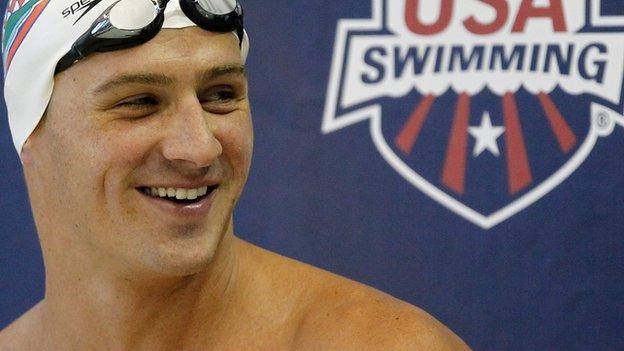 Swimming (backstroke, individual medley, freestyle relays)
Born: 03/08/84
The American looks set for an enthralling battle with his teammate Michael Phelps in London, having been the standout performer at the 2011 World Championships. Lochte won five gold medals in Shanghai - one more than Phelps - and also set the first world record since hi-tech polyurethane swimsuits were banned, in the 200m individual medley.
Other career
The Florida swimmer has won three Olympic gold medals and six medals in all. His haul in Beijing included two medals in the space of 27 minutes; after winning gold in the 200m backstroke, he got straight back in the pool to clinch bronze in the 200m individual medley. Phelps won that medley in a world record time - but the record is now owned by Lochte.
Personal
Lochte describes himself as a "clown who likes to surf Daytona beach". He is also the proud owner of two Rottweiler dogs (Tike and Zeus) and a mixed Chow (Spidy).
He started out being coached by his dad and claims he currently swims "18,000 metres, 5-6 hours a day, 6 days a week".
Did you know?
He was born on the penultimate day of the swimming competition at the 1984 Los Angeles Olympics.
His mother, Ileana, delivered him shortly before American Rick Carey won gold in the 100m backstroke. She was in Shanghai 27 years later to watch her son win his five World Championship gold medals.