Dwain Chambers ponders LaShawn Merritt doping appeal ruling
Last updated on .From the section Olympics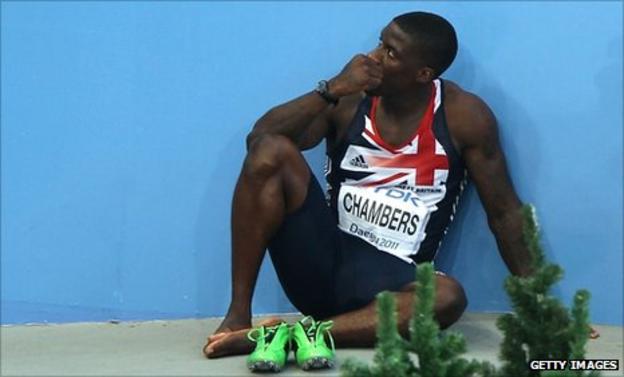 Dwain Chambers is considering appealing against his Olympic suspension after LaShawn Merritt overturned his own ban.
The British sprinter is barred from taking part in London 2012 by a British Olympic Association (BOA) by-law that imposes a lifetime ban for doping.
His agent Sazia Agha said: "Dwain and I just want the opportunity to read, digest and review the reasoning behind [US sprinter Merritt's victory]."
Cyclist David Millar is refusing to be drawn on whether he will also appeal.
Chambers, 33, was ruled out of future British Olympic teams after being banned for two years in 2003 for using the performance-enhancing drug THG.
As a national Olympic association, the BOA is not directly affected by Merritt's successful challenge of the International Olympic Association (IOC) rule that bans offenders from the Olympics following their conviction, but then leaves them free to compete in subsequent Games.
But the American's victory at the Court of Arbitration for Sport (Cas) could set a precedent for appeals against the BOA and other national Olympic bodies that impose their own stricter bans.
BOA chairman Colin Moynihan defended the British rule, saying: "It is tough but it is fair. It has a strong appeal mechanism. Fundamentally, the BOA by-law addesses eligibility and is not a sanction."
Rather than further punishing Merritt for failing three tests for a banned steroid in early 2010, the 400m Olympic champion received support from the United States Olympic Committee (USOC) in his appeal against the IOC.
Before the Cas ruling, British cycling's head of performance David Brailsford said there should be internationally agreed rules on how doping rules should be enforced.
Brailsford said: "I'd love to see consistency on a global scale, we have a global anti-doping body in Wada (World Anti-Doping Authority) and we should have a global application of the rules.
"It shouldn't be your nationality that decides if you get banned or not, so if you are French you can ride; if you are British you cannot."
Millar, who was stripped of his 2003 World Elite Time Trial title after admitting using the blood-boosting drug EPO, is unsure whether he will appeal.
"I have no idea at the moment what I'm going to do. I'm going to let the gods decide this one," he said.
"If I appealed I believe I would have a high chance it would succeed. But I have a lot of respect for Dave Brailsford and the Great Britain squad and I don't want to cause any grief or negative press.
"The only pro would be for me personally to be able to compete in London."
The Wada Code, which came into force in 2004, harmonised rules around the globe and brought in a maximum ban of two years for athletes who test positive for performance-enhancing drugs.
However former 110m hurdles world-record holder Colin Jackson believes the BOA is justified in its stance.
"The roots of the BOA by-law come from the general consensus that as a sportsperson at the Olympics you work as an ambassador for your country," he said.
"If we deem that we don't want anyone who has taken drugs to be an ambassador for us at the Olympc Games then I don't see any real reason why we should question that decision.
"This ruling may have implications for it but I think the BOA should stick to its guns and say, 'this is what we want and this is how we see sport'."
In light of the court ruling the BOA has confirmed they will be sending a letter to the IOC requesting confirmation that the 'decision in no way impacts the autonomy and ability of individual National Olympic Committees to determine eligibility standards for athletes and coaches who may seek to represent their countries in IOC-sanctioned events such as the Olympic Games'.
A BOA statement added: "The BOA commends the IOC for its continued leadership in the fight against doping in sport and is supportive of the IOC's desire to see further revisions to the World Anti-Doping Code - including, where necessary, the introduction of tougher sanctions."