Sebastian Coe rejects 'white elephant' Olympic Stadium claims
Last updated on .From the section Olympics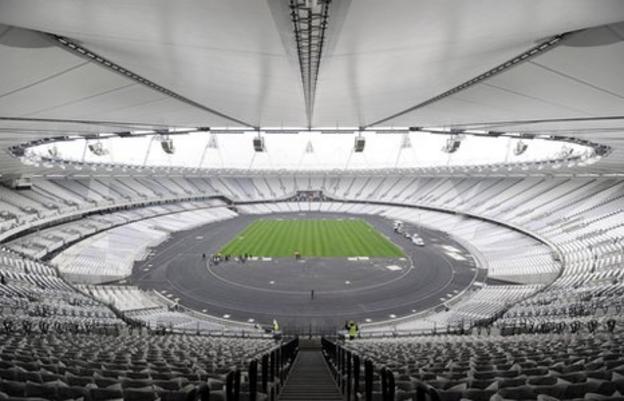 London 2012 chairman Lord Coe has rejected claims the Olympic Stadium is set to become a "white elephant".
London assembly member John Biggs said: "The decision... is at very high risk of creating a white elephant."
Coe responded: "I do think it is very important that we maintain a commitment to an Olympic legacy and to a mix of tenancies in there."
He added: "That is a commitment we made and I think we should see it through."
West Ham's deal collapsed amid concerns over delays caused by the legal dispute with Tottenham and League One side Leyton Orient.
The Olympic Park Legacy Company, government and mayor of London instead came to the agreement that the stadium, which will retain the running track, will be leased out to a mixture of sporting events.
London 2012 and Olympic Delivery Authority officials met in London on Wednesday to answer questions about the preparation for the Games.
When Lord Coe was asked whether he believed athletics meetings had the potential to fill the Olympic Stadium after the Games, the two-time 1500m Olympic champion noted that the capital was bidding for the 2017 World Athletics Championships in the belief there would be full crowds.
He added that Britain's successful hosting of two Diamond League meetings at Crystal Palace shows there is sufficient interest in the sport.
"London is now the only city that stages two of those back-to-back," he commented. "We not only sell out for every one of those meetings but we would also probably be able to sell five times that number of tickets.
"There is no lack of demand for top-class track and field in this country but clearly sitting alongside the use of the stadium for local events, English schools championships and the plethora of events and other competitions that are there."
The Olympic Stadium's 80,000-seat capacity will drop to 60,000 after the Games, but with Diamond League meetings in Brussels or Paris drawing crowds of 50,000-70,000 people, Coe is adamant they can fill the stadium.
"If we had a larger venue we would fill that venue," he added. "You have only got to go to Crystal Palace for any of those Diamond League meetings to know how many people turn up on spec hoping to get tickets.
"Don't run away with the idea that track and field is a sport that is not supported."