Olympic Dreams: Roberto Pavoni reveals mammoth training
Last updated on .From the section Olympics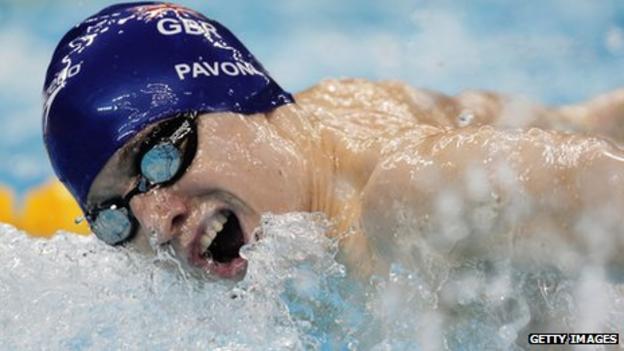 An Olympic swimming hopeful from Essex has put his education on hold to secure a place at the London 2012 Games.
Roberto Pavoni, from Shenfield, competed in the 400m Individual Medley at this year's world championships.
As part of his training programme, the 20-year-old is currently swimming 85km (52.8 miles) per week.
He said: "It's Olympic year, so you've got to do things you've never done before in the hope you're going to perform the best you ever have."
He continued: "I've put my studies on hold this year to concentrate entirely on swimming and I'm glad I made that decision.
"I'm eating about twice as much as I normally do and am coming home just trying not to get ill.
"With all of this training it's going to be tough on the body and right now an illness, even for a few days, can really set you back."
Pavoni, who finished eighth in the final of the 400 IM in Shanghai earlier this year, said he had been back in training for about 10 weeks, following a three-week rest.
In September he spent three weeks in Arizona at altitude training and since the start of October has spent most of his time in the pool at Loughborough.
Pavoni said in each session he was currently swimming 8.5km (five miles).
He said: "I go twice Monday, twice Tuesday, once Wednesday morning, then twice Thursday and Friday and Saturday morning. Then we have the weekend off.
"I'm literally just swimming or doing a circuit out of the pool, and then coming home and recovering for the next session."
His next big competition will be the Dutch national championships in Eindhoven in December.
This will be followed a week later by the European Short Course Championships in Poland.
He hopes the hard yards put in now will see him make the step up from final contender, to medal contender.
Roberto Pavoni is one of BBC Essex's 13 featured athletes as part of 'Olympic Dreams' in the build-up to London 2012.