Olympics 2012: How Cathy Freeman thrived under home pressure
By Saj Chowdhury
BBC Sport
Last updated on .From the section Olympics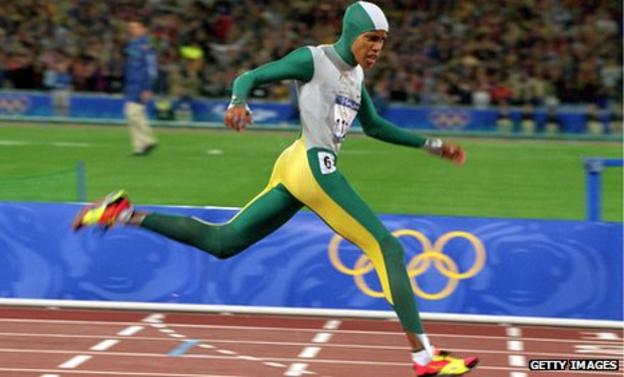 In less than nine months' time, Great Britain's athletes will try to fulfil the expectations that have been heaped upon them since it was announced back in 2005 that London would host the 2012 Olympics.
With judgement day fast approaching, can Team GB's finest handle the pressure of not only performing on the biggest stage, but also on their home patch?
One woman who knew how to carry that burden and then deliver success in her own country was Cathy Freeman.
The Queensland-born runner was Australia's great hope for gold on the track at the 2000 Sydney Games. She was favourite for the 400m, having come to the Olympics as world champion following a successful defence of her title in Seville.
But what made her story different to others was that she was an indigenous Australian. Sydney wanted to confirm its position in the world as a modern metropolis, open to different cultures, and Freeman was their poster girl.
She was chosen to light the Olympic flame and now her country and the world were waiting for the fairytale ending.
Did she feel the pressure?
"There were three or four occasions when I let expectations get to me in a negative way," Freeman told BBC Sport.
"But I had a way of managing the environment I was in. This was my third Olympics and I had been waiting 17 years to win a gold. I had won two world titles. I was quite confident. Champions have a certain belief."
Freeman knew, and was told, from an early age that she would become the best.
"I ran my first foot-race at the age of five and won it; I think it was clear to people watching that I was a natural mover," added the Australian.
She was one of five children. Her parents divorced by the time she was seven and she attended nine different schools because, as she states, "my stepfather's job took us all around the state of Queensland".
"When I was 10, my stepfather planted the seed in my brain. He told me to put up a sign on the wall stating I was the 'World's Greatest Athlete'. I believed that. I was best in school, then I became the best in town, then the state, then country and, finally, the world."
What was missing in the medal cabinet was Olympic gold. The women's 400m in Sydney was billed as a straight contest between Freeman, who was 27 at the time, and French athlete Marie-Jose Perec, who beat her to the title at the 1996 Atlanta Games.
But her rival pulled out of the Games before the start of the competition after a turbulent build-up that included an altercation with an Australian photographer.
Freeman was now the outstanding favourite. She eased into the final on 25 September and described preparations on the day of the final as "business as usual".
But this final was anything but normal. More than 110,000 expectant spectators had taken to their seats inside the Olympic Stadium before deafening cheers on the announcement of Freeman's name turned to a blanket hush as the athlete crouched down on her blocks.
Freeman was in lane six and started well, but not as spectacularly as Jamaican Lorraine Graham and Briton Katharine Merry, who were in the gold and silver positions going into the final 80m. However, the Australian was renowned for her strong finish and surged away to win in a time of 49.11 seconds to become Australia's 100th Olympic champion.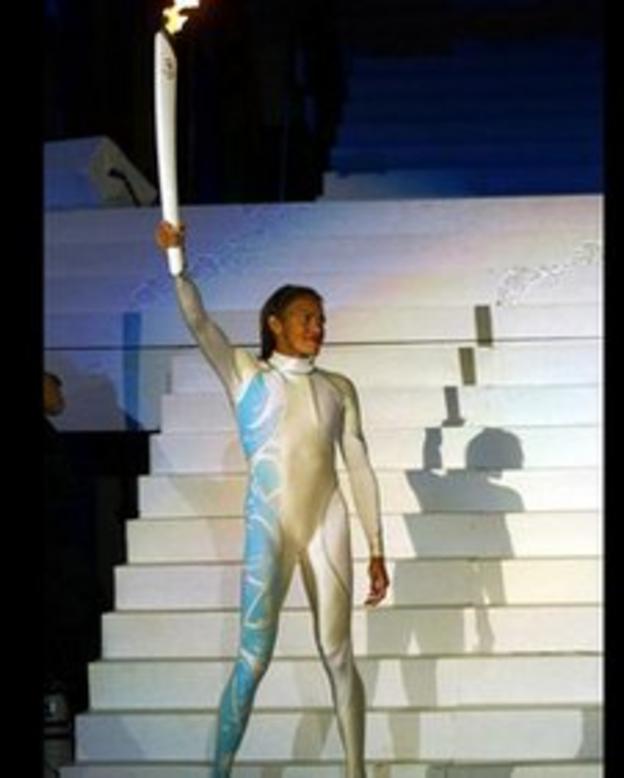 "I can recall the moments before the race, looking out into the stadium," added Freeman, who was wearing an all-in-one suit.
"It was a strange feeling during the race itself. I didn't hear the crowd before the gun went but I felt the crowd during the last 100 metres.
"When I crossed the line it was pretty overwhelming. I knew I'd won but I wasn't ready for the extra details - like the eruption of the crowd. The emotion inside the stadium was phenomenal."
During her victory lap she held a flag which represented Australia and her ethnic heritage. She went on to compete in the final of the 200m, finishing seventh, but she had already achieved what she set out to.
"It changed my life incredibly," added the 38-year-old, who gave birth to her first child, Ruby Anne Susie Murch, in July this year.
"Now I know I'm capable of focusing on and applying myself to a goal when there's a lot of expectation. The other thing that has changed is the position people hold me in."
And Freeman has some straightforward advice for any British athletes preparing for London 2012.
"Just be true to who you are," she said. "You're doing it for personal reasons. It should be celebrated and you should embrace it. There might be nerves creeping in and cracks appearing, but turn it around and use it to your advantage.
"One of my favourite quotes is from tennis legend Billie Jean King, who said: 'Pressure is a privilege'. You have to be happy, be free and enjoy yourself."