BOA chairman Moynihan attacks 'toothless' anti-doping regime
Last updated on .From the section Olympics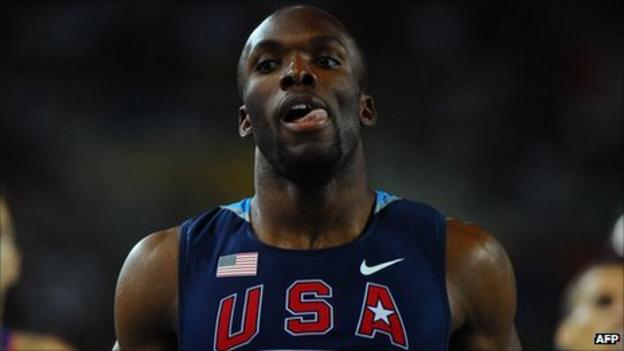 British Olympic Association chairman Colin Moynihan says "toothless gestures towards zero tolerance" mean "drugs cheats" will compete at London 2012.
And he said the BOA lifetime Olympic ban for British athletes guilty of doping offences should remain in place.
"We now have a situation where drugs cheats will be able to compete in London 2012," Moynihan said.
"We must decide: is the outcome we want a watered-down, increasingly toothless gesture towards zero tolerance?"
American LaShawn Merritt is able to run in next year's London Olympics after
Although the BOA has no jurisdiction over an American athlete, the case has renewed pressure on the association to alter its own hardline policy.
"Much has been made of the fact that there is no room for redemption in the BOA's lifetime ban," Moynihan told the International Federations Forum in Lausanne, Switzerland.
"It is argued that Olympic values should include the indulgence of human frailty, forgiveness and redemption and that the mark of a true justice system is the prospect of reform and redemption that it offers.
"These are important values and society as a whole is defined and enhanced by our recognition and adoption of them. To err, after all, is human.
"However, I believe we need to ask where is the redemption for the clean athlete denied selection by a competitor who has knowingly cheated?
"What is worse the cheat, possibly with a lifelong benefit of a course of growth hormones and other drugs, is back again. Under the current Wada Code, if he times his two-year ban correctly he is ready to deny another clean athlete selection for the following Olympic Games.
"So now is a time for change, now is a time for informed review, and now is a time to refocus on our drive to identify those who knowingly cheat their fellow competitors."
Merritt was banned for nearly two years in 2010 for failing three tests for a banned steroid.
This was later reduced to 21 months but the American was still due to miss London 2012 under the International Olympic Committee's policy of banning athletes given a doping suspension of more than six months from competing in the next Games.
But Merritt and the United States Olympic Committee argued it went beyond World Anti-Doping Agency (Wada) sanctions of a maximum two-year ban and took their case to the Court of Arbitration for Sport, which overturned the ban.
This has led to speculation that other athletes, including Briton Dwain Chambers - who failed in a previous attempt to overturn his BOA ban prior to the 2008 Beijing Olympics - may attempt similar appeals.
The BOA's bylaw means any British athlete who is banned for longer than six months for doping offences can never again compete for Britain in the Olympics.