London 2012: Man Utd players should embrace Olympics - Coe
Last updated on .From the section Olympics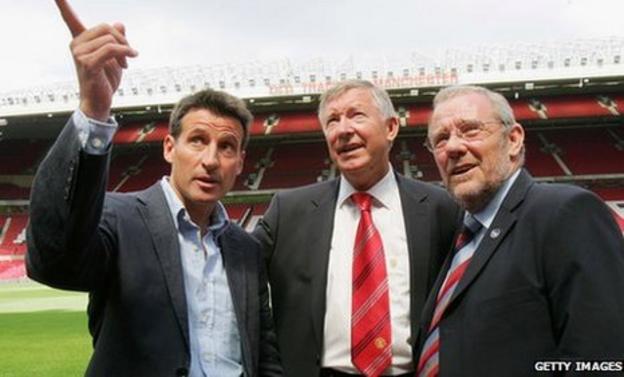 Lord Coe says Manchester United's young players could benefit from being part of a Great Britain football team at the Olympics in London.
But London 2012 chairman Coe said people such as Carlos Tevez had gained valuable experience from the Games.
"A lot of countries use the tournament as a way of giving young players tournament experience," he commented.
"I know that Alex and other managers will want their players to be fit and healthy for the Premier League.
"But actually Alex is a believer in Olympic football and I have spoken to him about it.
"That is very clearly Alex wearing his Manchester United-Premier League manager's hat and I know some managers will inevitably do so.
"But this is about prioritising. There are a lot of players that would like to play in the Olympic Games and there are a lot of managers that think it is an important part of the development of a player.
"I went to the Olympic final in Athens just as a fan. I watched Argentina against Paraguay in the final and [Manchester City striker] Carlos Tevez was playing, basically making his international debut, and [Barcelona forward] Lionel Messi played in the 2008 final in Beijing.
"So there is an extraordinary opportunity for young players and a lot of countries do use the Olympic tournament as a way of giving young players that tournament experience when it is probably less important in a way for them than their European or continental championships or even a World Cup."
The matches will be at six venues: Wembley in London, Old Trafford in Manchester, Cardiff's Millennium Stadium, St James' Park in Newcastle, the City of Coventry Stadium and Hampden Park in Glasgow.