IOC discipline Hayatou and Diack over payments
Last updated on .From the section Olympics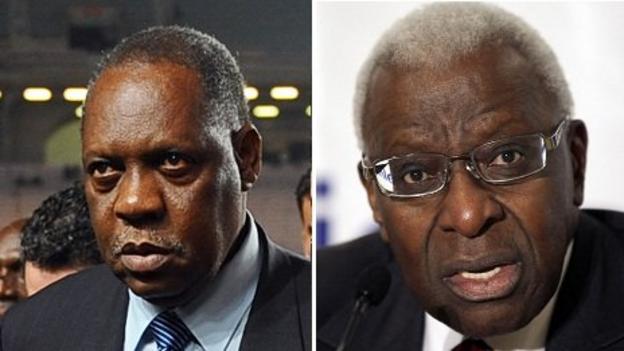 The International Olympic Committee has disciplined two members after an ethics committee probe into the acceptance of payments from a marketing firm.
Issa Hayatou, the head of African football (Caf), was reprimanded, while Lamine Diack, International Association of Athletics Federations (IAAF) president, was given a warning.
The action follows an investigation by the BBC's Panorama programme into sports marketing company ISL.
Both men remain full IOC members.
In its judgement, the IOC Ethics Commission said the pair had placed themselves in conflict of interest situations in accepting money from ISL more than 10 years ago.
World football's governing body Fifa was a client of ISL, which collapsed with debts of $300m (£192m) in 2001.
Diack and Hayatou said the payments did not constitute a bribe, the IOC revealed in its decision.
Hayatou, an IOC member since 2001, told the ethics panel that he received 100,000 French francs in cash from ISL in 1995.
Hayatou, who was vice president of Fifa at the time, said the money was to help finance the 40th anniversary of Caf.
Diack, who joined the IOC in 1999, told the panel he received three cash payments totalling $30,000 (£19,200) and 30,000 French francs ($6,100) after his house in Senegal was burned down in 1993 "for political reasons". At the time, Diack was a vice president of the IAAF, which was negotiating a marketing contract with ISL.
Joao Havelange, the former Fifa president who was also investigated by the Ethics Commission, , and is no longer subject to its disciplinary measures.
IOC president Jacques Rogge said the fact both Diack and Hayatou were not IOC members at time was a "mitigating" factor.
Rogge said: "It is always sad if you have to discipline colleagues but bear in mind the needs of the organisation.
"This is a judgement made by the experts of the Ethics Commission. They are two different decisions for two different acts."
Rogge said the ethics commission's reports would not be released as they were "confidential".