BOA to 'embrace' drug cheats if Olympic ban ruled unlawful
Last updated on .From the section Olympics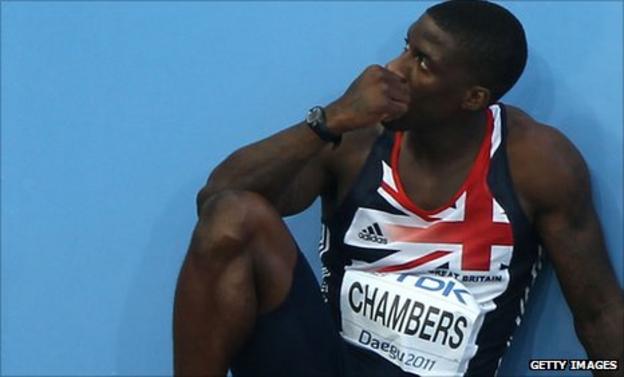 Dwain Chambers would be accepted back into Team GB if the British Olympic Association's lifetime ban for drugs cheats is ruled unlawful.
It is challenging the World Anti-Doping Agency (Wada) policy that states the ban is "non-compliant" with its code.
BOA chairman Lord Moynihan told BBC Radio 5 Live: "They will, rest assured, be fully embraced into the team."
Both the BOA and Wada hope the Court of Arbitration for Sport (Cas) will make its decision before the end of April.
Moynihan insisted the BOA bylaw had the overwhelming support of British athletes, but if it is overturned by lawyers the individuals affected by it would receive "the same treatment as anybody else and we will wish them luck."
Sprinter Chambers, who has served a ban which resulted from having failed a drugs test in 2003, could compete at the 2012 London Olympics if the BOA loses.
Moynihan added: "We are going to Cas to try to win this case, we believe we need to do so on behalf of clean athletes and reflect the 90-95% of athletes who consistently ask for this selection policy.
"We have full autonomy to decide who we are going to select and we believe that is a very strong position in front of Cas.
"This is not a sanction or double jeopardy, this is a selection policy. The right of team selectors is the basis for a strong appeal."
Moynihan believes the BOA's selection policy offers a fairer deal for clean athletes.
"Those who have knowingly cheated other athletes out of selection did so knowingly, they knew the consequences of it," he said. "It doesn't leave me angry, it leaves me very sad about those guys.
"They made the decision to cheat their fellow athletes. They knew the price they were going to pay, and ultimately when you talk about redemption you've got to talk about the redemption of those clean athletes.
"They were denied selection as a result of an athlete who was taking a cocktail of drugs to enhance their performance, and denied that athlete who has trained week in week out, year in year out, the chance of getting selected for the pinnacle of their sporting career, namely the Olympic Games.
"You never hear of them again, they get no redemption in the whole of their life."