London 2012: Olympic sport this year
Last updated on .From the section Olympics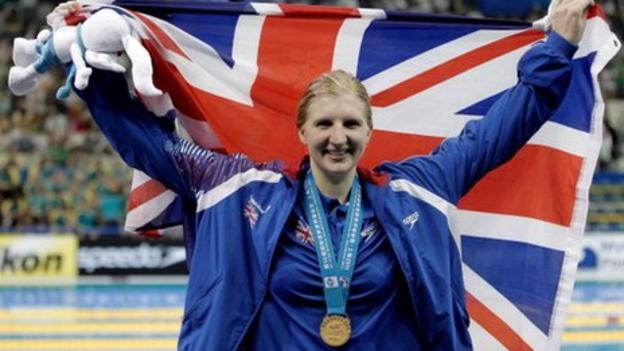 THIS YEAR'S HIGHLIGHTS
A round-up of some of the success Great Britain enjoyed on the world stage in 2011, with Team GB producing world champions in athletics, cycling, rowing, swimming, taekwondo, sailing and triathlon.
ATHLETICS<p>
Mo Farah and Dai Greene led Britain's medal haul at the IAAF World Championships in Daegu, South Korea with memorable victories.
Welshman Greene delivered GB's first gold of the championships, winning the 400m hurdles in a time of 48.26 seconds. Greene now has the world, European and Commonwealth titles to his name.
Farah then capped an outstanding season with gold in the 5,000m on the last day of competition, having won silver in the 10,000m a week earlier.
Great Britain finished sixth in the medals table with two golds, four silvers and one bronze.
The USA was comfortably the strongest nation, winning 12 golds and 25 medals in all.
CYCLING
Mark Cavendish became Britain's first male world road race champion for 46 years, winning the title in September in Denmark.
It topped an incredible year for the Isle of Man cyclist, who also won the Tour de France green jersey and the BBC Sports Personality of the Year award.
On the track, March's World Championships in the Netherlands produced a solitary British gold in the women's team pursuit (Wendy Houvenaghel, Laura Trott and Dani King) but GB won nine medals in all - eight in Olympic events.
And in BMX, Shanaze Reade continued to impress; she won her fourth world title at July's World Championships in Copenhagen and followed that up with victory at the London 2012 test event.
SWIMMING
Double Olympic champion Rebecca Adlington led the way for Great Britain at July's World Championships in Shanghai, winning gold in the 800m freestyle and silver in the 400m freestyle behind Italian Federica Pellegrini.
Britain won six medals in all, with Liam Tancock (the non-Olympic 50m backstroke) and Keri-Anne Payne (10km openwater) also winning gold.
Payne became the first British athlete to qualify for London 2012 with her victory.
American Ryan Lochte was the stand-out performer at the Championships. He ended with five gold medals - one ahead of Michael Phelps, who took his overall World Championships tally to 26 golds as the United States topped the medal table.
TRIATHLON
Great Britain enjoyed a memorable double triumph in 2011, with Alistair Brownlee crowned men's world champion for the second time and Helen Jenkins winning the women's title, also for the second time.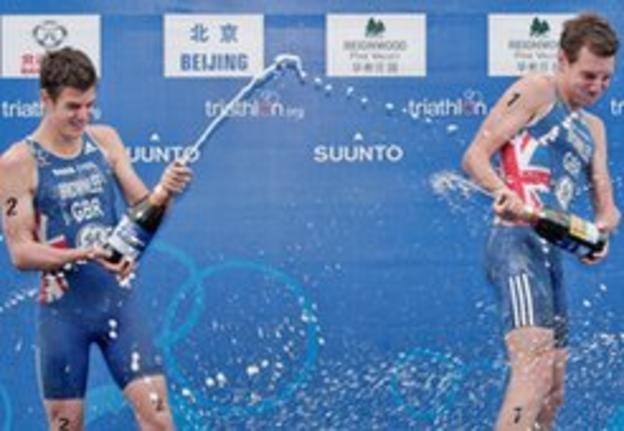 Both victories were sealed at the season-ending Grand Final in Beijing in September, with Alistair pipping his younger brother Jonathan to the title.
The Yorkshire-born pair arrived in China separated by only 120 points, and it was Alistair, the eldest brother by two years at 22, who took the line first.
A day later Jenkins sealed her title by finishing runner-up behind Andrea Hewitt of New Zealand, knowing that a top-three finish would guarantee her the overall title.
ROWING<p>
Great Britain had an outstanding World Championships in Bled, Slovenia, in September, topping the table with seven gold, three silver and four bronze medals.
Three of those golds came in Olympic-class races. Olympic champions Zac Purchase and Mark Hunter defended their men's lightweight double title, beating New Zealand in a thrilling final.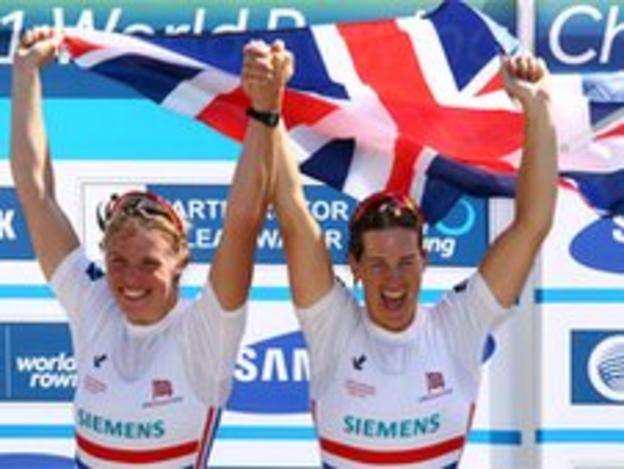 The men's four of Tom James, Richard Egington, Alex Gregory and Matthew Langridge produced a faultless performance to finish ahead of Greece and Australia.
And Katherine Grainger and Anna Watkins retained their double sculls crown with another dominant display.
Grainger, a three-time Olympic silver medallist, and Watkins have not been beaten since they became a pair in January 2010.
TAEKWONDO
Sarah Stevenson won her third Taekwondo world title in May, beating China's Guo Yunfei in the -67kg category in Gyeongju, South Korea.
Her success, 10 years after she became the first British woman to win a World Championship crown, was all the more remarkable given that she had been caring for her critically ill parents. Tragically, both have since died.
Asked how she was able to compete in such circumstances, Stevenson said: "I think I was just on auto-pilot. I don't know if I took it in; I don't know if I actually sat there and thought: 'What is going on?'"
There were three other British medallists in South Korea; teenager Jade Jones won silver in the women's -57kg category, Michael Harvey won silver in the men's -63kg section, while Martin Stamper collected bronze in the men's -68kg.
SAILING
Great Britain won six medals at the World Championships in Perth, including a gold for Giles Scott in the Finn class.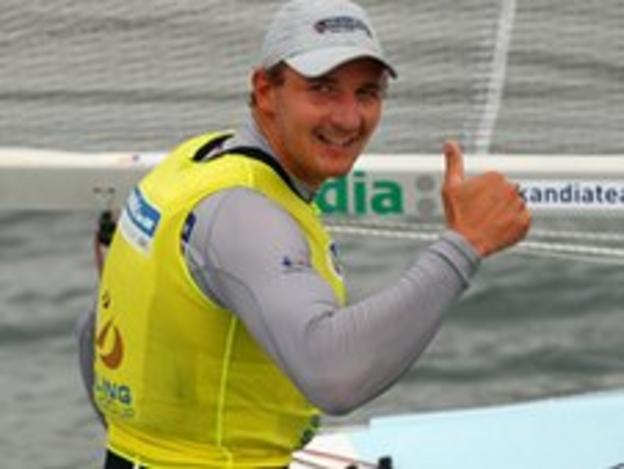 Scott will not be competing at London 2012, though, having missed out to Ben Ainslie. Triple Olympic champion Ainslie was disqualified in dramatic circumstances in Perth.
Hannah Mills and Saskia Clark took silver in the 470 women's event, while Nick Thompson won a third consecutive World Championship medal in the Laser class.
Britain's Olympic Star champions Iain Percy and Andrew Simpson were forced to relinquish their world title after two-time gold medallist Percy injured his back.
Australia finished as the top nation with three gold medals.
BOXING
Great Britain's boxers enjoyed a record-breaking week at October's World Amateur Boxing Championships in Azerbaijan as they picked up an unprecedented four medals.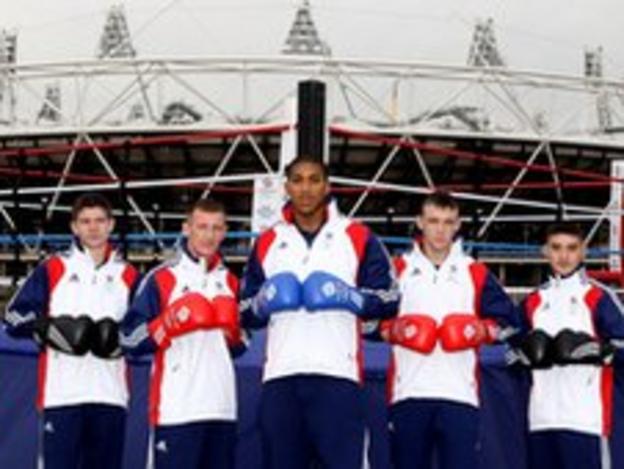 Luke Campbell, Anthony Joshua and Andrew Selby all won silvers after being beaten in their finals and Tom Stalker picked up a bronze.
A few weeks later, Nicola Adams became the first British woman to win a major boxing title with victory at the European championships.
Adams, who is part of GB Boxing's Olympic squad, beat Sarah Ourahmoune of France in the flyweight (51kg) final in Rotterdam.
SELECTED EVENTS BEFORE LONDON 2012
JANUARY: Gymnastics - Visa International Gymnastics, O2 Arena, London (10-18 Jan); a London 2012 test event of huge importance for Great Britain's men, who are bidding for Olympic qualification after failing to finish in the top eight at October's World Championships in Tokyo. The teams who finished ninth to 16th in Japan will battle it out for four remaining team slots at the Games.
FEBRUARY: Cycling - The UCI Track Cycling World Cup, Velodrome, London (17-19 Feb); the fourth and final leg of the World Cup is also a London 2012 test event and a chance for the world's best to compete at the impressive new Olympic venue, including Sir Chris Hoy, who helped with the Velodrome's design.
Diving - FINA Diving World Cup, Aquatics Centre, London (20-26 Feb); the 18th FINA World Cup is also part of the London Prepares series and will be the first competitive event to be staged at the new Olympic Aquatics Centre.
MARCH: Swimming - British Gas Swimming Championships, Aquatics Centre, London (3-10 Mar); the British championships will serve as Olympic and Paralympic trials, with the likes of Rebecca Adlington and Ellie Simmonds hoping to book their place at London 2012.
Athletics - World Indoor Championships, Istanbul (9-11 Mar); among those to look out for is Jessica Ennis, who plans to defend her world indoor pentathlon title as the build-up to London 2012 continues.
APRIL: Cycling - UCI Track Cycling World Championships, Melbourne (4-8 Apr); as the final qualifying event for London 2012, this year's world championships will have even more at stake. Australia topped last year's medal table in the Netherlands and will be tough to beat on home soil.
MAY: Olympic Torch Relay - The London 2012 Olympic torch relay begins on 19 May at Land's End and finishes 70 days later on 27 July at the opening ceremony in the Olympic Stadium.
Rowing - Samsung World Rowing Cup, Belgrade (4-6 May); the first of three World Cup meetings before the Olympics. The others are in Lucerne (25-27 May) and Munich (15-17 June).
Cycling - UCI BMX World Championships, Birmingham (24-27 May); Olympic hopefuls from all over the world come to Birmingham's National Indoor Arena, looking to impress before London 2012. Among them will be GB's four-time world champion Shanaze Reade.
JUNE: Athletics - Aviva 2012 Trials & UK Championships, Birmingham (22-24 June); Olympic places are at stake with the top two from each event earning selection for Team GB. Closely followed by the European Athletics Championships in Helsinki (27 June-1 July).