Olympic hopeful James Huckle aims for exciting year
Last updated on .From the section Olympics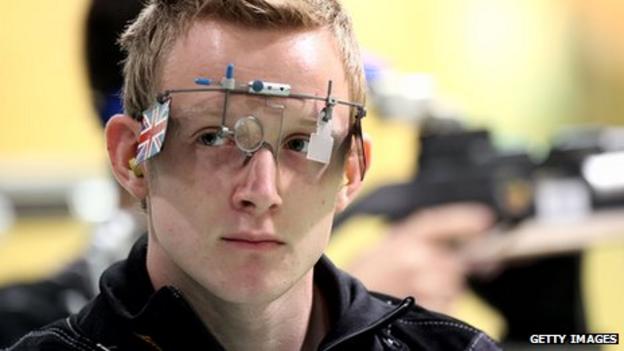 Olympic shooting hopeful James Huckle says he is embarking on 2012 with a "controlled excitement".
The 21-year-old air rifle shooter from Harlow equalled the British record at a competition in Luxembourg in December.
The young marksman said he was heading into the Olympic year knowing the next few months were crucial in cementing his place in the Great Britain team.
He said: "I've got to keep it relatively stress free and keep doing what I've been doing, that's the key."
"I've got to enjoy every second, whether it's a hard competition or a competition where there's an Olympic quota place on the line.
"I've got to realise I'm doing this because I enjoy it and rather than worry about the future or the past, keep it in the present and do what I know best and just enjoy it."
Huckle capped another successful promising season by picking up the Essex Sports Personality of the Year award at the 2011 Essex Sports Awards.
Following a brief winter break, Huckle is stepping up his training, with the crucial European Championships in March his next big event.
With just three places in the Great Britain Olympic rifle team currently available, Huckle acknowledged he needed to keep a cool head in the coming months.
He said: "I've definitely got a good mindset on how I'm going to train leading up to the games and the competitions are in place.
"Keeping doing the same things that got me here is a good start and always be willing to accept you can learn from your mistakes."