London 2012: Tim Stockdale back on track after neck break
By Nick Southall
BBC Shropshire
Last updated on .From the section Olympics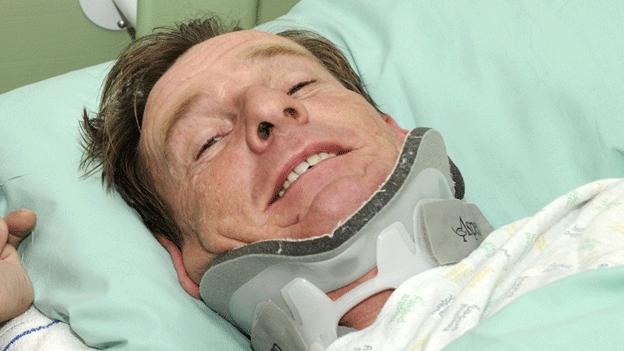 Four months ago show jumper Tim Stockdale was lying in a hospital bed wondering if his dream of making the Olympics was over.
That was the least of his worries amid fears he may never walk again after falling off a young horse in mid-Wales last October, an accident which left him in hospital for six weeks.
Now the Northamptonshire-based rider has started riding again, after a four-month lay-off.
BBC Radio Shropshire has followed Stockdale's rehabilitation at the world renowned Midlands Centre for Spinal Injuries, in Oswestry, as part of a series following the treatment British Olympic and Paralympic hopefuls have undergone ahead of this summer's Games.
In Stockdale's case, the fall in Wales nearly shattered his boyhood dream of one day representing his country at the Olympics.
"I was knocked unconscious and when I woke up it was raining," he said.
"A guy was holding my head and I owe a lot to that man. I had blood coming from my ears and the 999 operator told him not to move my head. He held me still for over an hour.
"I know this could've been a lot different. If my neck had moved just a bit further then the consequences aren't worth thinking about."
The odds seemed to be stacked against Stockdale with news that the air ambulance would not be able to land at the stables near Powys because of low cloud cover.
Stockdale was taken via land ambulance across the border into England to the Royal Shrewsbury Hospital before being transferred to the specialist spinal injuries centre based at the Robert Jones and Agnes Hunt Orthopaedic Hospital.
Consultant surgeon in spinal injuries, Mr Aheed Osman, explained the show jumper's injuries: "He had broken three bones in his cervical spine and had some soft tissue injury.
"Fortunately his sensation of movement was normal on admission. We decided he would start his treatment in a hard collar without movement for six weeks. I'm really satisfied with his progress."
Lying in a specially adapted bed which turned him from side to side to prevent pressure sores, staring at the same piece of ceiling day after day, Stockdale admitted he was not prepared for the psychological impact of the accident.
"I remember looking up at the ceiling for five weeks and three days," said Stockdale. "Nobody was counting - but I was.
"It was very tough, there were some very dark days and I wasn't prepared for that. The care I got in Oswestry was second to none and that gave me a lot of reassurance."
Four months after the fall, Stockdale took to the saddle again at his stables at Dovecote Farm, in Roade.
"I've had to learn to walk again and it's the same with riding, I've got to learn to get the grip and balance right," he added.
"I don't feel the balance has gone, that's another weight off my mind. People have said I'll struggle to get back into the saddle, that my confidence will be hit, but that hasn't happened.
"Every day I feel stronger. It's about setting realistic goals."
Stockdale hopes to ride 11-year-old ride Kalico Bay at this year's Olympics. Both had success in 2010 when they won the King George Gold Cup.
He said: "I'm on course for the recovery. At the end of the day, for me to get to the level to say now I'm going to go in the ring and jump some big jumps and try and get selected for the Olympics, that in itself will be a triumph."
Paralympians Ricky Balshaw and Mark Fosbrook share their battle to be fit in time for the Paralympics in the documentary.