Football the only sport not to sell out at London 2012 Olympics
By Matt Monaghan
BBC Sport
Last updated on .From the section Olympics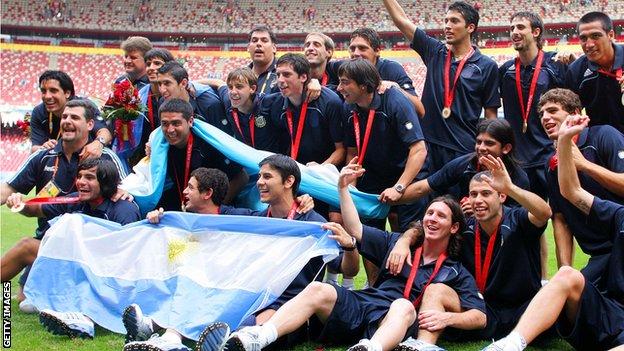 Football is the only London 2012 event which has not sold out, with approximately 1.5m tickets still available, BBC Sport has learned.
Football is still the biggest-selling sport at the games, but only 800,000 of the 2.3m tickets have been sold.
Showpiece events such as some of the men's quarter-final and semi-final ties have suffered from slow sales.
But organisers have cited a reluctance from fans to buy tickets before the draw is made on 24 April.
A London 2012 spokesperson said: "We are confident that when we know more about the teams and the draw, people will want to be part of the Olympic Games at the football venues across the UK."
Football is the only sport among the 26 at the games which has tickets on sale.
This raises the prospect of the Olympics opening to half-empty stadiums as football's preliminary matches begin on Wednesday July 25, two days before competition for any other sport starts.
But, despite the amount unsold, the 800,000 bought at the last count mean that football is the biggest seller at the games, out of the total 6.6 million tickets.
Tickets were taken off sale on Monday, and they will go back on the market, with prices ranging from £20 to £125, in April, when returned tickets for the 25 sold-out Olympic events will also become available.
The City of Coventry Stadium, Hampden Park, Millennium Stadium, Old Trafford, Sports Direct Arena and Wembley Stadium will stage the matches.
Hosts Great Britain are expected to compete with nations such as Brazil and World Cup and European champions Spain for the title.
Football Supporters' Federation chair Malcolm Clarke believes that "high prices" and a "lack of interest" due to England's participation in Euro 2012 could be behind the lack of sales.
"The general problem is that Olympic football is not seen as the pinnacle," he said.
"Most die-hard fans will be heading to Poland and Ukraine for Euro 2012 and wouldn't have even thought about the Olympics.
"They should have also priced the tickets much lower.
"I'm sure sales will pick up to an extent, but I'd be very surprised if there was a surge."
Tickets are available for most preliminary stage matches.
For the men's competition, the bronze match, two quarter final ties and one semi-final are also unsold. For the women's tournament, tickets are available for all knockout ties from the quarter finals to the gold medal game.