London 2012: Gaza 5,000m runner in quest to reach Olympics
By Jon Donnison
BBC News, Gaza City
Last updated on .From the section World Olympic Dreams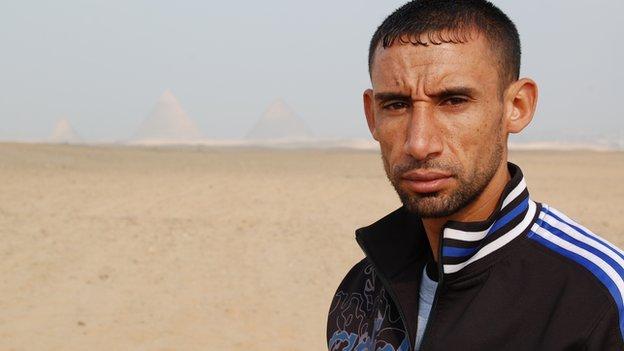 Nader el Masri feels the loneliness of a long distance runner.
The 32-year-old 5,000 metre specialist is the fastest man in Gaza but he has few places to train and few people to train with.
"I have a coach but there's nobody at my level in Gaza," says Nader. "I have to do most of my training sessions on my own."
And the facilities in Gaza are far from great.
There is not a single tartan track in the Palestinian territory and Nader does much of his training on the pot-holed cinder track that loops around the football stadium in Gaza City.
The other alternative is the beach which stretches along the length of Gaza's Mediterranean coastline.
It is beautiful but not ideal preparation for somebody trying to qualify for the 5,000 metres at the London Olympics in 2012.
There is also a lack of competitive races. Nader has only been able to run one big event this year in Gaza this year - the the first ever Gaza marathon held in May.
By chance the tiny Palestinian territory is almost 26 miles long, making it ideal for marathon running.
The athletes covered the strip top to bottom but only a handful of runners finished the course and Nader won at a canter.
Again not an ideal testing ground for an aspiring Olympic athlete but now Nader is packing up and getting out of Gaza for a few weeks.
That is not easy in this part of the world. The tiny Palestinian territory has been under a tightened Israeli blockade ever since the Islamist movement Hamas came to power.
The blockade has damaged the sporting ambitions of most although one group of young Palestinians have found some sort of release in the sport of parkour.
For most Palestinians the only way out is south through Egypt but only around 400 people are allowed to cross on any given day.
Nader headed first to Cairo by bus for a week-long training camp at Egypt's Olympic training facilities in the upmarket Maadi neighbourhood of the city.
"It's only a week but it's better than nothing," says Nader. "It's a chance, at last, to run on a decent track.
"This feels so good. On a track like this I can see my split times for every one hundred, four hundred and thousand metres.
"That means I know exactly how I'm doing and what more I need to achieve. It makes such a difference."
He is also able to combine running with a bit of sight-seeing. The desert around the famous Giza pyramids provides an inspirational backdrop for a training session.
And to get to London 2012, Nader will need to be inspired.
He has just been told by the Palestinian Olympic Federation that he won't be given one of two wildcard places awarded to each competing nation.
It is probably fair given that Nader was awarded such a wildcard in 2008 to allow him to take part in the Beijing Olympics.
This time two other Palestinian athletes will get the opportunity.
Now Nader's only chance is to make it to London is to meet the Olympic qualifying time and that means knocking over 40 seconds off his personal best.
It is a tall order but he remains upbeat: "I am very optimistic, and I wish that God almighty grants me success to get a qualifying time. Only then can I go to the Olympics," he says.
"If this happens I will be the first Palestinian athlete to gain a qualifying time. This will be a big achievement."
After his training in Cairo, Nader heads to Doha in Qatar for this month's Arab Games - he runs in the 5,000m on 20th December.
He hopes the higher standard of competition might see him make a breakthrough.
If not Nader has a plan B - he says he might try for the marathon where he feels qualification could be easier.