London 2012: 40,000 tickets to be released for athletics

By David Bond
BBC sports editor
Last updated on .From the section Olympics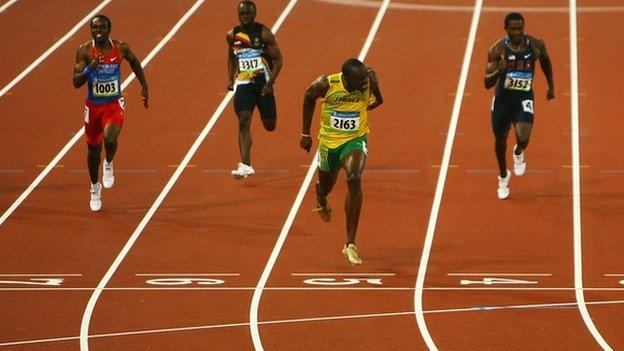 Fans who missed out in last year's Olympic ballot will get the chance to buy 40,000 seats for athletics events when the last batch of one million tickets for go on sale in April.
The exact allocations for the London Games are still being worked out.
But the BBC has obtained the first details of what will be available in the final public sale.
The athletics tickets cover all nine days of competition, although numbers will vary from session to session.
London 2012 organisers have confirmed to the BBC that there will be thousands of tickets available for the most sought-after track-and-field sessions, such as the men's 100m final.
The vast majority of the 40,000 athletics tickets are likely to be sold within 24 hours of the website going live because officials are considering allowing every eligible applicant the chance to buy at least two each.
The 20,000 people, who were mistakenly told they had tickets, will have a 24-hour window in which to apply for the released batch.
There will then be a further five-day window for the rest of the one million people who missed out in both rounds. Another general sale is unlikely because a million people are chasing a million tickets.
The BBC has also learned that the million tickets released in April will include 50,000 tickets for basketball sessions at the Olympic Park and the North Greenwich Arena (O2).
A further 30,000 tickets are to be made available for the diving at the Aquatics Centre.
Exact numbers for the opening ceremony have not been worked out but are thought to be in the low thousands.
The capacity of the main stadium will be reduced from 80,000 to 61,000 during the opening ceremony because of giant screens and extra demand for seats from VIPs and the media, making the pressure on tickets even greater. As few as 29,000 seats will go to the British public.
Tickets for track cycling are likely to be even harder to come by in the April sale because the Olympic Velodrome only has a capacity of 6,000.
Following last week's hugely successful test event at the Velodrome, organisers are now finalising how many extra seats might be available.
However, there are unlikely to be very many more than 1,000 across the six days of competition.