London 2012: Inside China's Olympic 'factory'
By Michael Bristow
BBC News, Beijing
Last updated on .From the section World Olympic Dreams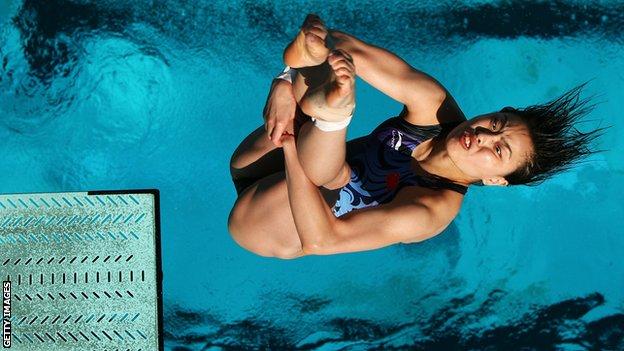 Tom Daley's preparations for the 2012 Olympics have been criticised by coach Alexei Evangulov who claimed the diver's main Chinese rivals trained three times harder.
In reply, a statement issued on Daley's behalf said: "Diving, family and school have always been the priority for Tom. This is 90% of his life. Corporate, media work and friends form the remaining 10%."
In April last year two Chinese divers told World Olympic Dreams of their training regime which allows them half a day off each week. This week the pair picked up a gold and silver medal at the Diving World Cup in London.
Sunday is normally a day of rest in China - but not for the country's top divers.
While many people might be contemplating a good lunch or a visit to the cinema, divers Wu Minxia and He Zi are in the gym.
These two athletes hope to win gold at next year's London Olympics and that means no holidays before the event begins.
They get just one half day off a week - Sunday afternoon - which they usually spend in their apartment; sleeping, watching TV or listening to music.
The divers are part an elite group of Chinese sportsmen and women who live almost their entire sporting lives inside the system.
They eat, sleep and train at facilities in Beijing run by the China State General Sports Administration. They have few friends in the city outside.
"For people like us who live in a small circle, we meet people from similar backgrounds and have very simple lives," said Wu Minxia, who has already won two Olympic gold medals.
"People who live outside, who have to work, have a more complicated relationship with society."
The divers are not prevented from leaving their compound, which they share with dozens of athletes who won gold at the Beijing Olympics in 2008.
Just outside the gate there is a supermarket, where they go to buy food and other odds and ends.
Occasionally, they eat at outside restaurants and shopping trips are limited to things they really need.
He Zi is 20, Wu Minxia is 26, but neither has a boyfriend.
"I put all my heart and concentration into the training. I don't think of many things outside of that," said He Zi, originally from the Guangxi autonomous region.
Part of the isolation comes from the divers' rigorous training regime, but also seems to be encouraged by the sports authorities in China.
The athletes are driven the short distance from the training complex to their dormitories by bus; the outside world is glimpsed through a window.
And their apartments, each one shared by several performers, are off limits.
The sportsmen and women in this system almost always eat together too. Athletes and coaches sit down at the communal canteen, which provides sumptuous dishes.
As one official put it: "The athletes' lives consist of three points: training, eating and sleeping. They just move from one to the other."
Wu Minxia and He Zi do think of life outside of diving.
"I've been training for years and the fatigue has built up. I need a period of time just to let my brain think about what I want to do next," said Wu, who comes from Shanghai.
"I'd like to take my family on holiday," said He, who does not visit her distant home even once a year.
But that is in the future. For now these two divers have their sights set firmly on London, where they are expected to compete together in the women's 3m synchronised diving event.
He Zi said: "I've had difficult moments, but never thought seriously about giving it up. I still have a dream - and that keeps me going."