London 2012: David Florence the canoeing machine

By Rhona McLeod
BBC Scotland
Last updated on .From the section Olympics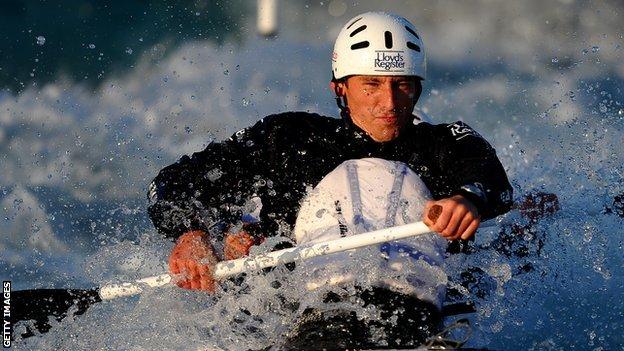 It would be understandable, as an Olympic silver medallist, if David Florence had only one vision in mind.
Of standing at the top of the podium at London 2012 with a gold medal around his neck.
But the Scot, in public at least, is a great deal more canny than that.
The date on which he is firmly focused is April 13th 2012 - the first day of trials for Olympic selection.
"Most people don't understand how difficult it is just to go to the Olympic Games in the first place - particularly in canoe slalom, when there's just one spot in each category.
"In some categories we have two or three boats, who are all world class performers, and only one will get to go.
"It's not the fun part of the campaign, but that's the nature of competitive sport."
But Florence has made a decision which could double his chances of success; first, of selection, and then, of medalling at London 2012.
"Compared to Beijing, I am in as good shape as I was.
"Obviously it's a bit different this time as I am also going in the doubles category as well as the singles, so I've got two chances at selection, as well as two chances to win a medal.
"But it's a bit more of a challenge with training for both and racing in both of those - it's a bit different this time around."
Florence says that after he won silver in Beijing, he was looking for a new challenge.
"To have won an Olympic medal was a fantastic achievement, but I wasn't sure what I wanted to do next.
"I had trained at C1 for a long time but wanted a new challenge, something different, so I came up with the idea of trying a new category which no one had really done before.
"I approached Richard Hounslow about the C2 and its just gone from there really."
Now Florence is equally focused and dedicated to both singles, and doubles events - but does he have a preference, or inkling which will yield more success?
"I enjoy both, but C1 is what I started in, what I had real aims in and so I enjoy the C1.
"It's also an individual sport and I'm an individual type of person, more so than a team sports person.
"But the C2 has been fantastic and in our competitions we have had early success, so that's very been very exciting."
And so to that original question, after silver in Beijing, does Florence feel there is an expectation of gold in London?
"You meet people who say silver last time - gold this time," said Florence.
"Obviously there's a bit more to it than that.
"The people who really know me, and know what I am doing on a day to day basis - my family, friends and coach - they understand that first it's about going through the selection process and then preparing the best I can for the Games.
"Just because you won silver last time doesn't necessarily mean you'll win gold this time.
"It just means you have the potential to be right up there in the world.
"I've only been to one Olympics, but I am an Olympian and a medallist and that's something that will stay with me forever and I will always be very proud of.
"To go to an Olympic Games with all these other sports, such a world spectacle was just an amazing experience and something I very much hope I'll get the chance to do again."
You can see more of David Florence on Sport Nation - at 1900GMT, Tuesday 6 March on BBC Two Scotland.