London 2012: Steve Cram says GB standards must be met

By Steve Cram
BBC athletics commentator
Last updated on .From the section Olympics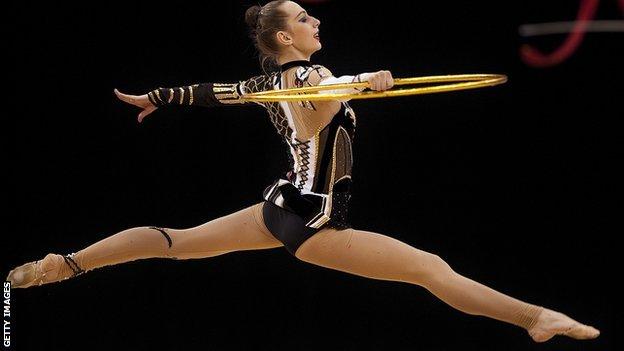 With everything that has happened with the British rhythmic gymnasts over the last few weeks, people have been discussing whether Great Britain should only be represented at the Olympics in those sports in which we are competitive.
The debate, which has actually got a lot to do with how the sports are funded, is not a new one. So here is some history.
The National Lottery funding which has been in place since the 2000 Games in Sydney is based on sports in which GB has a chance of winning medals at the Olympic Games and World Championships.
However, when Britain was awarded the 2012 Games back in 2005, naturally more funding was made available.
There was a discussion back then on whether the extra funds should benefit sports where GB wouldn't normally be very competitive at Olympic and world level.
In sports like handball, volleyball and water polo, Britain wouldn't ordinarily send a team to the Olympics but there were questions about whether in a home Games we should be represented across the board.
The argument from the bigger, more successful sports was that they had previously been judged on their ability to perform and win medals so there was no reason for that to suddenly change.
Some of the sports had strict performance criteria set down by funding agency UK Sport and if they failed to meet that they had their funding cut. This is where rhythmic gymnastics comes in - they're not funded by UK Sport because they are not considered competitive enough on the international stage.
Some sports responded to funding cuts quite well, basketball being a good example. It has progressed to a point where, OK, it's still not a medal-winning sport for GB, but the team will be competitive at the Games. Accordingly, they were granted a host-nation place for London 2012.
It's tough - as the rhythmic gymnasts found out. They failed to meet their performance target, which is why the British Olympic Association had said they weren't going to allow them to use a host nation place.
And as tough as it is, I think we should be able to perform to a certain standard if we're going to compete at the Games.
I know the counter-argument is that if we don't have a team on the world stage, we won't inspire future generations and so we'll never improve that standard. But we have a limited number of athletes who can be on the British Olympic team so bosses have had to make selection decisions.
The British swimmers competing at the national championships this week knew they had to finish in the top two and reach the Olympic standard otherwise they wouldn't be going to the Games.
It's sad when you don't hit it, and sometimes you miss by the tiniest of margins, but that's what sport is all about.
It's something I've experienced myself. There were a couple of championships I would have loved to have gone to but I didn't because I didn't qualify. Sometimes you get pipped on the line.
Later on in my career, when I was struggling with injury, I missed the 1990 Commonwealth Games in New Zealand. What made it annoying was that bosses made an arbitrary decision on my fitness without me.
I'd been injured and they decided the September before that I wasn't fit enough to run in the event even though it wasn't until January. I felt I had enough time to get fit but they decided not to take me.
Come January, I certainly was fit enough to race. I was so incensed that I didn't even bother watching the Games.
So I realise that it is really, really tough and you feel for the individuals concerned but it has to be that way because other sports and individuals within those sports are also living by the same rules.
If you start to open the door for one, imagine the amount of appeals the BOA would be facing between now and the Games.
Take athletics for example, where the standards Britain sets for qualification have tended to be higher than the base required. Head coach Charles van Commenee has been trying to push that over the last two years and you can understand why - he's trying to raise the bar.
Athletes have realised that only just qualifying for the British team is not enough - you need to be good. And that's only right.