Olympic 'best is yet to come' from Team GB, says talent head Warr
By Matt Slater
BBC sports news reporter
Last updated on .From the section Olympics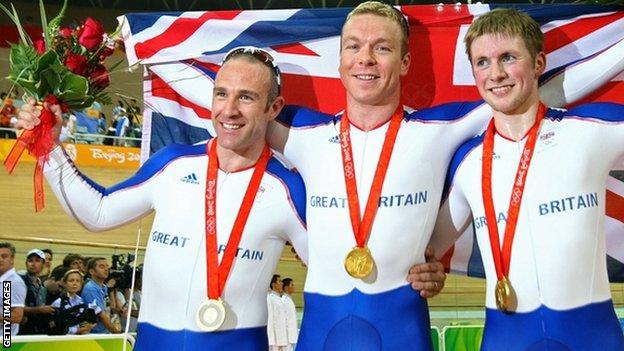 The head of Great Britain's Olympic talent factory believes the team could win more medals at the Rio Olympics in 2016 than at this summer's Games in London.
Team GB won 47 medals at the 2008 Games in Beijing, the best return for a century, and that was good enough for fourth in the medal table.
That is also the target for London, albeit with more medals in more sports, but UK Sport, the agency that funds British Olympic sport, is confident Rio will be "even better".
"We can definitely expect more," said UK Sport's head of athlete development Chelsea Warr.
"The progress Team GB has made since world-class funding came in will be showcased in London, but the most interesting thing for me is that the best is yet to come.
"I think 2016 will be the real test, especially for the development programmes that underpin that success."
Sporting Giants
Warr was speaking to the BBC five years after the launch of Sporting Giants, an X Factor meets Superstars recruitment drive for handball, rowing and volleyball, three "tall sports". Aspiring Olympians aged 16-25 were asked to come forward for testing, providing they had played sport to a good level and were taller than 6'3" for men and 5'11" for women.
Nearly 4,800 people applied but that number was whittled down through seven stages of assessment until approximately 100 were added to the development programmes of the three sports.
With the 2012 Game now less than five months away, 17 Sporting Giants have already competed internationally, winning 13 medals. Eight of the group are on track to compete in London, including two of British Rowing's best hopes, Helen Glover and Vicky Thornley.
"Talent ID programmes match people to the sports that suit them. That usually happens by luck but what we try to do is reduce the luck factor," said Warr.
Since the success of Sporting Giants, UK Sport and the English Institute of Sport have run six more talent ID schemes across 17 different Olympic and Paralympic sports. These initiatives have unearthed hidden talents that have won 85 international medals.
Great Britain's Olympic fortunes were revitalised in 1997 when funding from the National Lottery, launched in 1994, was channelled to the country's brightest talents via UK Sport.
Team GB won only one gold medal at the 1996 Olympics in Atlanta to finish 36th in the rankings. Four years later, in Sydney, the team won 11 golds to climb to 10th and in Athens nine golds were claimed, a haul that maintained their top-10 status.
But the major breakthrough came in Beijing, where the team secured 19 gold medals and surged past Australia, France and Germany to claim that surprise fourth-place finish.
Warr admits the battle for medals will be keenly contested in London, particularly behind the three big powers of China, the US and Russia, but says Team GB's upward momentum should continue.
"We've gone from an era where we had a few plucky individuals who managed to climb their way to the pinnacle of their sport to a far more robust, more systematic, more sophisticated way of finding individuals who can win," the Loughborough-based sports scientist said.
Warr acknowledges that some of the thinking behind this approach has been borrowed from abroad but British Olympic chiefs have also looked to the arts, business and science for inspiration. Recent workshops, for example, have been with organisations as diverse as the European Space Agency and consumer electronics giant Sony.
"We can learn from any walk of life where performance really matters," she added.