London 2012: Usain Bolt's journey to the Olympics
Last updated on .From the section World Olympic Dreams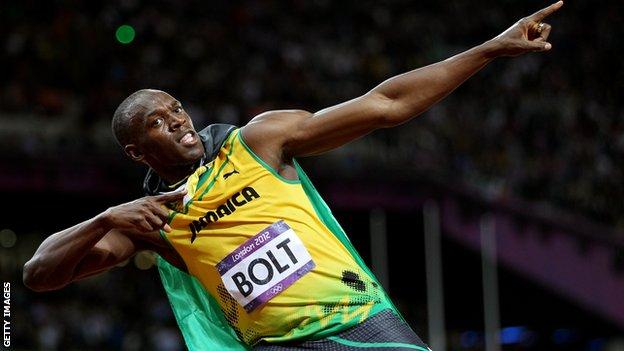 2012
Sat 11 Aug 12: Usain Bolt claimed his third gold medal and first world record of the London Olympics by
Jamaica's quartet clocked 36.84 seconds, smashing the old mark by two-tenths of a second and leaving the United States with silver.
Thu 09 Aug 12: He is the first athlete to retain both Olympic sprint titles.
"After a rough season I came out here and did it. I thought the world record was possible. I guess I was fast but not fit enough," he said of the 19.32secs finish.
"I could feel my back strain a little bit, so all I did was to keep my form. I'm very dedicated to my work and London meant so much to me."
Sun 05 Aug 12: winning in 9.63secs.
"I was slightly worried about my start. I didn't want to false start again, so I sat in the blocks a little bit," he told the BBC.
"It wasn't the best reaction in the world but I executed it and that was the key. My coach said 'stop worrying about the start because the best part of your race is the end'. It worked."
Mon 02 Jul 12: - this time over 200m.
"I can never be discouraged," Usain said. "I'm never worried until my coach gets worried. My coach isn't worried, so I'm OK."
Sat 30 Jun 12:
Blake's 9.75 second finish is the fastest of the year and was 0.11secs faster than Usain, who was slow out of the blocks. "I had to ignore it. I had trouble getting out, but I kept feeling like I could not give up," he said.
Thu 07 Jun 12:
He was pushed all the way by his compatriot before finishing in 9.79secs, a meeting record.
"For me it was alright but I could have done better. The reaction was good but the execution throughout was not that well," he told the BBC afterwards.
Thu 31 May 12:
"I knew I could do it," Usain said of his 9.76 second run - the fastest 100m time of the year. "Since I've been in Europe I've not been sleeping regularly, so after Ostrava I made sure I started going to bed earlier and eating right.
"I felt extremely well today, so it's come back and I am pleased."
Fri 25 May 12:
"I don't really know what went on," he said. "At the start, I didn't feel as explosive as I normally feel. If you don't get that first start, well that's where my power comes from for the transition and everything comes together.
"That's reality, a very bad day at the starting blocks."
Sun 06 May 12:
After running 9.82secs, he said: "I feel better than last year, so I'm definitely happy with myself. I don't think my execution was perfect, but I think for my first race it was good."
Wed 07 Mar 12: Prince Harry "raced" Usain Bolt during his royal visit to Jamaica. The island is one of a number of Commonwealth countries being visited as part of a tour to commemorate the Queen's Diamond Jubilee.
"He's cool, very down to earth," Usain said. "When you meet dignitaries you think it will be difficult but he just wanted to laugh - it was an honour and a pleasure to meet him."
A "race" between the pair was organised for the assembled media pack but the prince sprinted down the track after a false start at the University of the West Indies stadium in Kingston.
"I'm still the fastest man in the world so he has a long way to go," Usain remarked.
Tue 14 Feb 12: Usain Bolt has pulled out of his first scheduled race of the year. He failed to start at the the Camperdown Classic in Kingston, Jamaica, on Saturday but visited a doctor in Munich who specialises in returning injured sports stars to full fitness.
In response to claims that Bolt is suffering from an unreported injury, agent Ricky Simms stated: "He is not injured. He trained fully up to leaving Jamaica and is training fully again".
2011
Sat 12 Nov 11: After being named IAAF athlete of the year, Usain Bolt revealed his aim to win four gold medals at London 2012.
Usain believes he can match Carl Lewis' achievement of four track and field golds at a single Games by competing in the 4x400m relay - a title Jamaica has not won since the Helsinki Games in 1952.
"I will probably be in good shape and I know the guys are really stepping up the 400m level in Jamaica," he said. "If I can help to get them a gold medal, I will want to go on that team."
Fri 16 Sep 11: At the Brussels Diamond League meeting Usain Bolt ended his season by clocking 9.76secs - the fastest 100m time of the year.
Mon 05 Sep 11: Usain Bolt has led Jamaica to a new 4x100m world record.
In the final race of the World Championships being held in Daegu, South Korea, Usain ran the anchor leg of a relay that completed the course in a blistering 37.04secs - the only world record of the Championships.
"We're natural born athletes. It's all about running fast. As long as we got the baton round, I had no doubts," he said.
Sat 03 Sep 11: Usain Bolt has defended his world 200m title.
He responded perfectly to disqualification in the 100m by powering across the line in the fourth fastest time ever - 19.40secs. "I made a mistake but I came back to show the world that I'm still the best," said a jubilant Bolt.
"I'm not a legend yet. I'm on my way, but I've got to go to London and blow people's minds, to go to the Olympics and do something extraordinary."
Sun 28 Aug 11: Usain Bolt has been sensationally disqualified from the 100m final at the World Championships.
Rule 162.7, introduced last year by governing body the IAAF, states that the first athlete to false-start should be disqualified rather than given a warning.
Compatriot and training partner, Yohan Blake, took Usain's 100m world title with a winning time of 9.92secs.
Usain was unavailable for comment following the race but released a short message via the IAAF website, saying: "I have nothing to say right now. I need some time".
Fri 29 Jul 11: It was a comfortable 200m win for Usain Bolt at the Stockholm Diamond League meeting.
After finishing in 20.03secs, he claimed: "Technically it was not a good race because the curves here are a bit tight.
"I was careful not to get injured before the World Championships. But generally, it was a good race despite the fact that I wanted a better time."
Fri 22 Jul 11: Usain Bolt ran his fastest 100m of the year at the Monaco Diamond League meeting, winning in 9.88secs.
"My aim this season is to run 9.7, maybe 9.6," he said. "For me, this year it's about building myself and go into the Olympic season fit and ready. London [2012] is the key."
Thu 09 Jun 11: Usain has set the fastest 200m time of the year at the Oslo Diamond League. He eased to victory in 19.86secs despite the race being his first at that distance for 13 months.
"I have nothing to worry about, I'm still the champion," Usain said. "It is all about technique now to get the icing on the cake."
Fri 27 May 11: Usain Bolt is back. After 10 months out of action, Usain pipped Asafa Powell to the line in Rome to claim 100m victory in 9.91secs.
Usain appeared to struggle out of the blocks and later said: "I was nervous, as it was my first race of the season.
"I didn't think it went well and the nerves got to me. It was a totally bad race and I'm just pleased I won."
Mon 04 Apr 11: "Champs" is no ordinary school sports day - there are no egg and spoon races here. World Olympic Dreams met up with Usain Bolt at Champs, where he completed a record-breaking double in 2001, aged 16, winning the 200m and 400m.
Fri 04 Feb 11: Usain Bolt is set to race at London 2012 in a uniform designed by Bob Marley's daughter.
2010
Mon 04 Oct 10:Usain is back in action after completing his first training session since August.
"The good news is that I am 100% healthy and am completely over my back and Achilles tendon problems," Usain said.
Wed 25 Aug 10:Usain Bolt has signed what is said to be the biggest sponsorship deal in the history of athletics. The £21m deal with Puma will see the launch of a new line of clothing based on Bolt's "To Di World" stance.
Tue 10 Aug 10:Usain has announced that he will not be racing again in 2010 because of a lower back injury.
Fri 06 Aug 10: Tyson Gay sensationally beat Usain Bolt in the 100m at the Diamond League meeting in Stockholm, Sweden - only Usain's second professional loss in the 100m.