Nader el Masri's journey to the London 2012 Olympics
Last updated on .From the section World Olympic Dreams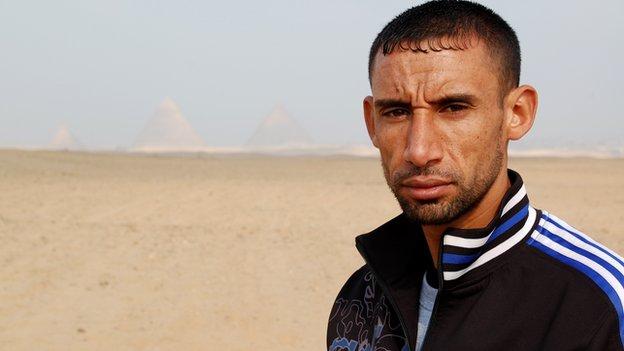 LATEST NEWS - 2012
Thu 01 Mar 12:Nader el Masri has won the Gaza marathon for the second year in a row.
The UN agency for Palestinian refugees (UNRWA), which organised the event, said it aimed to highlight the ongoing "humanitarian crisis" in Gaza.
"I'm very happy," Nader said after winning the race from Beit Hanoun to Rafah. "I think we have sent a message that we hope will reach the world."
LATEST NEWS - 2011
Tue 20 Dec 11: Nader el Masri finished seventh in the 5,000m at the Arab Games. His time of 14 mins 33.49 secs is not quick enough to meet the Olympic qualification standard of 13 mins 27 secs.
Mon 19 Dec 11:Gaza's fastest man has left the Strip to attend the Arab Games in Qatar.
Nader is hoping to qualify for the London Olympics by running the 5,000m in less than 13 mins 27 secs.
"If this happens I will be the first Palestinian athlete to gain a qualifying time. This will be a big achievement," he said.
Thu 05 May 11: Nader has won the first-ever Gaza marathon.
He finished in in two hours, 42 minutes and 47 seconds - just one of nine runners who went the full distance. More than 1,000 schoolchildren joined for shorter stretches.
The marathon raised $1m (£600,000) for a summer camp for Gaza children and was organised by Australian Gemma Connell, who works for the UN Relief and Works Agency (UNRWA).
"I am very happy," Nader said after winning. "This is the first time that there is a marathon in our homeland, we hope to hold it every year in order to support the summer games, to support the Palestinian children and end the siege (on Gaza)."
Fri 21 Jan 11: The National Olympic Committees of Israel and Palestine have met for the first time in Lausanne.
The free movement of Palestinian athletes, like Nader el Masri, was discussed and Israeli representatives agreed to offer training opportunities to Palestine.
LATEST NEWS - 2010
Sun 21 Nov 10: Nader has set a personal best at the Asian Games in Guangzhou, China. Nader completed the 5,000m course in 14 mins 25.04 secs to finish 12th.
Thu 16 Dec 10: The BBC's Tim Franks has been to the Gaza Strip to hear how Nader el Masri struggles in his preparations for the London Olympics.