Jehue Gordon shuns Trinidad gun culture to eye Olympics
By Matthew Pinsent
BBC News, Trinidad
Last updated on .From the section World Olympic Dreams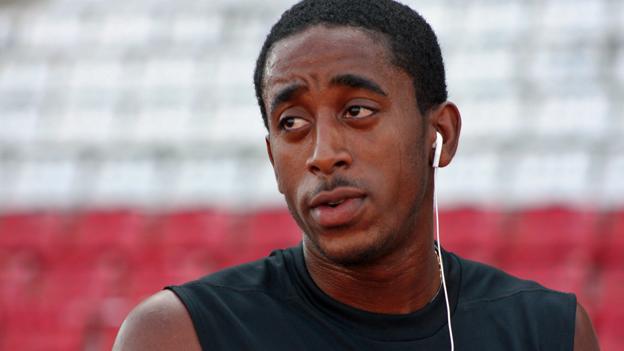 The slopes behind the running track at the Memphis Pioneers Sports Club in Port of Spain, the capital of Trinidad and Tobago, are covered in wooded, dense greenery.
The setting sun will take the edge off the image in an hour or so but the scene is worthy of a postcard or, even better, the base for an Olympic hopeful.
Teenager Jehue Gordon is running sets of 300 metres. That is after he has completed a prolonged warm-up, stretching, pacing and bounding under the eye of his coach, Edwin Skinner.
There are lots of athletes here tonight, from youngsters to older hands. The younger groups are corralled into a squad on the grass and put through their repetitions.
Some of the older ones sit in the shade next to the parents and onlookers. Most, if not all, stop chatting when Gordon, 19, goes through his paces.
His action is so smooth that his stride consumes the distance with ease.
He achieves his speed with a still head and limbs driving. It is only when he stops that there is an audible exhalation and a floppiness to his stature that shows he has been working.
After a few minutes, Gordon has cooled down and I ask him for his thoughts on the London Olympics, now that the opening ceremony is little over a year away.
"Just thinking about the Olympics, amazing pictures come to my mind," he says. "You know I'm not happy with just making the final. I want to win a medal. I want to win that gold medal."
Hard work, dedication and focus. The qualities required of an Olympic champion are many and Gordon's coach believes the young athlete has the right stuff to make it.
"He does not complain about the work he has to do," says Skinner. "He studies and works closely with me, asking why something has to be done. He just does what he has to do to be a champ."
Gordon has more than 'just' his career running on his speed. His ambition for London is also about his family.
Their home is lodged onto one of the steep hills in Maraval, a suburb of Port of Spain. What was a long walk to school for years has become a tiresome drive down the valley to train.
But slopes and houses don't mix well.
In 2008, a small landslide destroyed half the house. There is not much that can be done. It happens in Trinidad. It goes with some of the territory.
"After that, I went and I trained hard like a beast," says Gordon. "I decided I had to make a way out of it. I knew at that point that I was really supposed to be something good in running to help my family out of that position."
But it is about more than that: Sport is the route away from some of the worst that Trinidad can serve up for Gordon and his family.
When I ask him what has happened to the boys he grew up with, he says: "Shoot-outs. Some are in jail. Some have made children. It's a really sad sight to see.
"You don't have to limit yourself because of the situation that you're in. Because you are from the ghetto doesn't mean you have to act like you're in the ghetto. Most people who are into sports are from the ghetto and they're some of the best people in society."
Gordon could have left Trinidad already. He is easily fast enough for a US college scholarship. But he didn't go. He wants to stay, to help his family and win a medal for Trinidad.
And Trinidad needs him because Gordon's story gives hope to others, as one of his former teachers, Lucia Reyes, points out.
According to Reyes, her students realise they have to work hard like Gordon to achieve success and that success will not "fall into their laps".
"The ones who are taking it seriously, they go to practice but they also concentrate on the academics," says Reyes. "And that's what Jehue has done for the school."