London 2012: Hurdler Jehue Gordon goes back to school
By Kevin Bishop
Series producer, BBC World Olympic Dreams
Last updated on .From the section World Olympic Dreams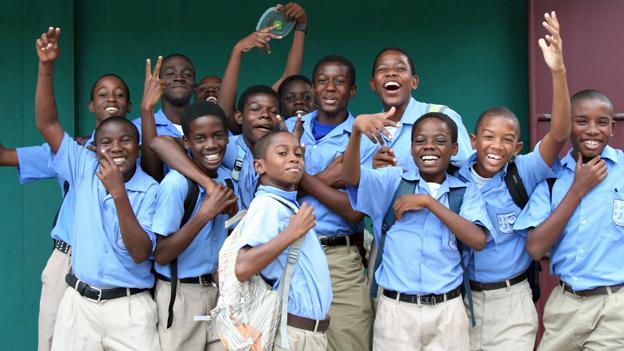 Jehue Gordon is the kind of person who does not need pointing out when you walk into a room.
We first meet in the staff room of his old school in Port of Spain, Trinidad and Tobago. He sits with the quiet confidence that athletic self-esteem brings but mixed here with a slight nervous awe at being in that once forbidden adult sanctuary.
Belmont Boys' Secondary School is a place, he tells me, that is the foundation of the success he has achieved. The school has its fair share of celebrated alumni in the world of sport, culture and politics.
Jehue is the latest boy-done-good and he wears his local celebrity with a swagger that never risks crossing over into arrogance.
As we walk through the schoolyard, students whoop and shout out his name. Some - in mock adulation that masks real pride and excitement - ask for his autograph.
"Jehue Gordon, you are my role model," one shouts. "Will you sign my social studies book?"
The school strikes me as a place where education is both valued and enjoyed. The principal, Lucia Raes, describes Jehue as a focussed student: "Willing to do the hard work and the sacrifice that it took to be an athlete but never forgetting the academic side".
A short walk from the school is Queens Park Savannah, the grassy expanse that gives life to the centre of Port of Spain. Here, as dusk brings a welcome relief to the intense heat of the afternoon, the young of the capital come out to play.
Under the gaze of local hero Brian Lara's imposing house, cricket matches spring out of the dusty haze. Over by the street-vendors, setting up their food stalls to tempt the hungry and exhausted, young men kick a ball about until the last of the light fades, scuffing up a cloud of dust with every footfall.
Special talent
Cricket and football were the young Jehue's first loves but his gym teacher Albert King soon spotted something special in his running technique that convinced him he had a future track star on his hands.
We unlock the door to the school gym - a small hall that doubles as a classroom - and Jehue's face bursts into an open grin.
He and his former mentor set out the old training equipment. Flimsy plastic hurdles that now barely come up to his knees and two wooden benches, covered in dust but still sturdy.
Albert puts Jehue through his paces again, slapping his trailing leg as he hits the hurdle. Both start to giggle as they remember how the room quickly became too small for the growing athlete.
"Remember how I used to run up there so fast I'd hit my head on the wall?" laughs Jehue.
At 17, he first burst onto the athletic stage when he came within a whisker of a bronze medal at the 2009 World Athletics Championships in Berlin.
"Young Gordon," as one race commentator called him, ran the fastest-ever time by a junior at the event, clocking an impressive 48.26 seconds in the final and losing out on a medal by just 3/100ths of a second.
A year later, it is the teenager we first get to know rather than the athlete. He is a demon texter, his phone beeping every few minutes with a new message. At home, always keen to stay off his feet, he plays computer games with his brother as he whiles away the hours between track sessions.
A talented flute player at school, his mp3 player now plays the soundtrack to his training routine, RnB and soca, the local soul calypso dance music.
Later that evening, at the Memphis Pioneers sports club, Jehue warms up gently under the watchful eye of club president Edwin Skinner. Ed knows a thing or two about what it takes to make it as an athlete.
He was one of the 4x100 metre team that won Trinidad and Tobago's first-ever Olympic medal in Tokyo in 1964, just two years after his nation gained independence from Britain.
He thinks the effort that Jehue is putting in now will see him rewarded at the highest level. "It's tough but Jehue sees it as an investment of his time. What else would he be doing - it's better than hanging out on the block with the other kids."
Jehue's coach Ian Hypolite puts it more simply: "Jehue was born special".
'Winning smile'
Behind us Jehue drags five hurdles into position. He bursts out of the starting block and over the hurdles with the speed and grace of a springbok.
For an hour or more, he goes through the same routine, over and over again. He is not happy with his performance - perhaps our camera distracts him, maybe he is just having an off day. But I am blown away by his power, speed and composure. Now I know what all the fuss is about.
Jehue has a wickedly winning smile. When a flash of inquisitiveness or humour punctures his teenage aloofness, he throws out a spark that is infectious.
But Jehue is at a turning point. His schooldays are all but over and the lure of a scholarship at an American university tempts him with the promise of funding, elite training facilities and regular competition.
He knows he would miss the security and comfort of a country that is just getting to know him, his mother who has sacrificed so much to make him the man he is becoming, and of course that good old home cooking. Usain Bolt made it without making the leap to America; Jehue Gordon seems to be wondering if he should follow his hero's example.
Whatever he decides, Jehue Gordon is a man who will do well in life, and dare I say it, in his chosen sport too. He has the drive and certainty of purpose that all great athletes exude.
A truly world-class runner is emerging from a gangly teenage frame and is starting to taste the potential he knows he has.