Indian shooting star Abhinav Bindra goes for gold again
By Ollie Williams
BBC Sport
Last updated on .From the section World Olympic Dreams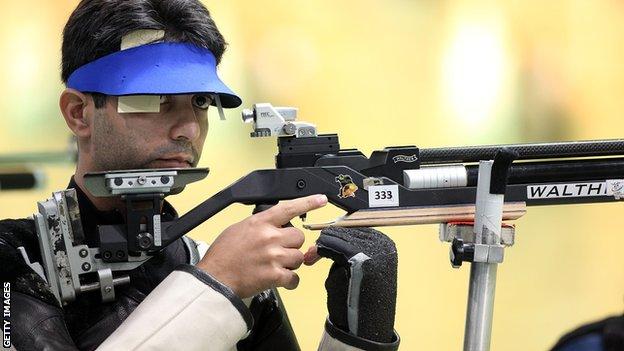 Abhinav Bindra - from Punjab, in India - is the only individual Olympic gold medallist in his country's history, having won the 10m air rifle shooting contest at the Beijing Games in 2008.
Never before had an Indian achieved that honour. The last time Indians topped an Olympic podium was the team gold they claimed in men's hockey in 1980 - before Bindra, now 27, was born.
Bindra became an overnight sensation. Among dozens of cash prizes and state honours, he even found himself granted the freedom of India's railways for life as the nation voted his gold medal its "greatest sporting feat of all time".
Now, two years later, he is trying to turn his popularity into profit and has vowed to "give back to shooting".
As the chief executive of a company named Abhinav Futuristics, the marksman has taken aim at the weapons industry in India. He hopes to begin manufacturing firearms like the one he used to win Olympic gold, in a bid to make the sport more accessible for Indian youngsters.
"I'm trying to start up manufacturing sporting air rifles in this country. I believe it can be a good business opportunity and good for the sport in India," he told CNBC in early 2010.
"I hope to get it started by the end of the year. I've been trying to do this ever since the Olympics. The problem with our sport is that the equipment is very expensive. I want young kids, who want to try it, to get access to equipment at a lower cost."
The company, based in the northern Indian city of Chandigarh, hopes to shift up to 25,000 weapons per year, in a joint venture with German arms firm Walther. The Indian media has since reported that Bindra's company will also supply the Indian police force.
Knuckling down to business is a sobering prospect for a man who enjoyed - or endured - the adulation of the world's most populous country for months after his Olympic win.
Bindra said his phone "did not stop ringing off the hook" until November 2008 following his victory in August that year, and has spoken of his bewilderment at the national stardom afforded him in its aftermath.
But his stated ambitions have remained the same since: promote the sport of shooting and reform the way sport in India is governed.
Even in the moments after his victory, Bindra declared: "I sincerely hope that it changes how Olympic sport is viewed in India.
"Right now, Olympic sports don't seem to be a priority and I hope that changes. As for shooting, I am sure it will grow stronger from here."
Two years later, Bindra has been forced to admit that weaning Indians off cricket and onto shooting has proved a tough proposition.
"An Olympic medal changed it all and it was something new for our country, we'd never had an Olympic champion. But I've come to the conclusion that only cricket sells in this country - as of now. I hope that changes," he said.
"I'm really passionate about the growth of Indian sport. The missing link in India is that support doesn't necessarily infiltrate down to the grass-roots level.
"Sports outside cricket get no sponsorship from the corporate world, the only support is the government. You can't do without the politicians, you need them, but you need professionals taking care of the sports aspect."
Bindra has certainly had his fair share of run-ins with the National Rifle Association of India (NRAI), shooting's governing body in his home country.
"There are days when I feel like throwing away my rifle," he told the Times of India in early 2010 following a dispute over the rearrangement of Commonwealth trials.
"You get frustrated," he later said. "And I've been competing for 16-and-a-half years, it's a long, long time, but I love my sport too much. Shooting is in my blood, I could never leave it.
"In my eyes, I've achieved what I set out to do. If I knew I was going to win these titles 15 years ago, I'd be over the moon.
"But it's a question of greed - every time you've got something, you want another one, there's no end to that. I'll keep going as long as I can."