London 2012: Olympic Borlée twins endure Arctic trek
By Kieran Fox
BBC News, Iceland
Last updated on .From the section World Olympic Dreams
The 2012 Olympics are still some months away but for Belgium's identical athlete twins - the Borlées - the road to London recently took a diversion, across an Icelandic glacier.
Kevin, Jonathan and the rest of Belgium's 4x400m relay squad spent a week trekking 80km across the Langjokull ice cap, climbing to 1,300m as temperatures dropped to -15°C.
With the London Olympics approaching, the expedition to Iceland could have been viewed as a distraction but it was the latest initiative from Team Borlée.
Jacques Borlée, coach and father to Belgium's top Olympic hopefuls, organised the extraordinary trip as an exercise in team-building.
Here are my daily updates from the trek.
DAY ONE - TRAVEL DAY
The amount of luggage is daunting - enough for a small village it seems - but not as daunting as the prospect of pulling, carrying and hauling it across an Icelandic glacier.
This is what lies in store for nine potential members of Belgium's 4x400m Olympic relay team. It is a first for all the twenty-somethings who gathered at Brussels Airport.
Kevin Borlée, the European 400m champion and recent world bronze medallist, says he doesn't know what to expect.
"That's part of the fun," he says with a wry grin.
Following the athletes is a small, and older, media group - myself and a Belgian television crew. The look of concerned anticipation is written all over our faces.
However, we are confident that the weathered Belgian Arctic explorer Alain Hubert will lead us on a path to safety.
Athlete Nils Duerinck tells me about a similar exercise ahead of the Beijing Olympics four years ago, which involved three days of assault courses, speed walking and mock rescues on a Belgian army base.
This trek will be an altogether different prospect.
DAY TWO - HORRIBLY BRILLIANT
Belgian athletics is a sport on the up, led by the rise of the Borlées. Sister Olivia was part of the 4x100m relay team that won silver at Beijing - Belgium's sole track and field medal since Ivo van Damme in 1976.
Jonathan Borlée was considered faster than his twin Kevin but the 'wrong' Borlée twin became European champion in 2010. Kevin then went on to win bronze at the world athletics championships too.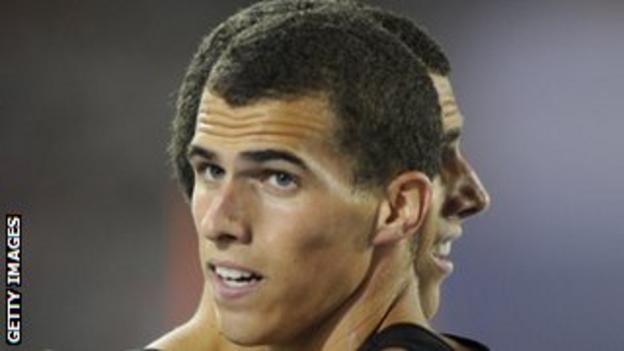 Looking to improve for London 2012, the Borlées haven taken to trekking 80 kilometres across an Icelandic glacier.
And where they go, I follow to report.
So I find my Friday night skiing up the Langjokull glacier into howling wind and snow, and fast-fading light - one of the most horribly brilliant things I have ever done.
I am a first-time skier after all.
The three-hour ride to the glacier in a monster ice truck was pleasurable. Putting up nine tents in a blizzard, in the dark, is not.
"That was an experience," says Jacques Borlée, with a dry wit that I must quickly become used to.
"This was your idea," I remind him.
It is time to thaw out and yet we are barely a mile into this trip. Bedding down for the night, the hope is that we are over the worst of it.
DAY THREE - WHITEOUT
Conditions have deteriorated - it is now -15°C - and we are stuck in our tents. Our hopes that the worst of it is over have been dashed and there is nothing we can do today but sit it out.
DAY FOUR - DARK PLACES
If hell is an Icelandic glacier then I am going to be forever good.
After a frustrating day stuck in the tents we finally set off up the Langjokull glacier. The upbeat mood is soon tempered by what lies in store. The eight-hour trek starts with a 5km ascent.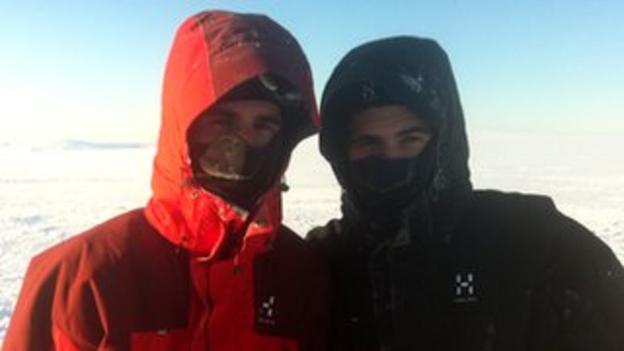 You go to some dark places when skiing uphill towing a 28kg sledge. It is not helped by the fact that we are chasing nine world-class athletes who have set off at a youthful lick.
When a lunch break comes, after what seems an eternity, our expedition leader Alain Hubert reiterates the need to go slower - highlighting the danger of unseen crevasses.
Despite a beautiful morning the afternoon turns into a slow uphill drudge as another whiteout envelopes us, leaving only the compass to guide us in the right direction.
There is ice hanging off the peak of my hood, my feet are numb and I have tunnel vision for the sledge in front. As the temperatures dip well below zero again, some seem more thankful than most when it is time to pitch camp as another blizzard sets in.
The Borlées seem to be handling it, even if the hacks are not.
DAY FIVE - FALSE HOPE
What goes up must surely come down.
After an initial uphill climb for 3km, the glacier levels out and soon we are downhill skiing, if anchored by a 30kg sledge.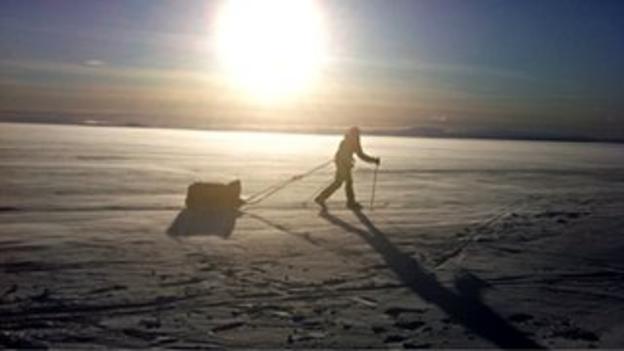 The Borlée twins seem upbeat and, like the rest of us, are keen to get to the finish.
On top of the glacier all is serene, as the sun warms our rhythmic progress. One ski in front of the other, and repeat.
Unfortunately, we have been lured into a false sense of hope.
Will Oyowe seems to go down with an injury near the end of the day. He has boot rub and the blisters that follow could end his trek.
To make matters worse a blizzard blows up. It is not easy pitching tents when you can't feel your fingers but led by the bare-knuckled Alain Hubert, the tents eventually go up.
Tomorrow we are promised a hut and an Icelandic hot pool warmed by the volcanoes at the end of another 20km. We just have to get there first.
DAY SIX - WET SNOW
I think it is called "wet snow". Whatever it is, it's arguably the worst substance known to man.
It sticks to the bottom of your skis so the effect is akin to walking through treacle with lead boots while towing an anchor.
The mood on this final day has been upbeat but towing our sledges through this stuff soon dampens the mood.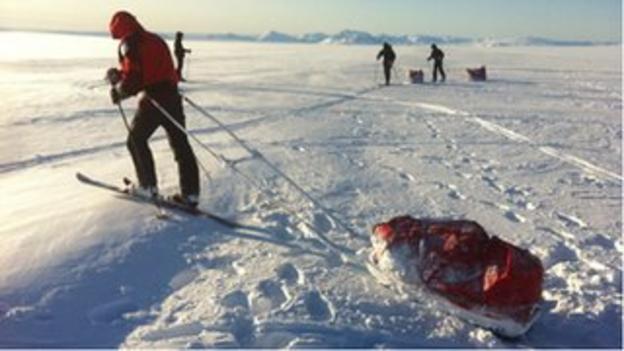 Will Oyowe has been suffering from the previous day's excursions and only through the helping hands of our guide Alain has he carried on.
The trek ends in a complete whiteout. Only Alain's snake-like path and GPS ensure we were going in the right direction.
After a morning of struggle, Kevin Borlée has kindly agreed to tow my sledge. I am all too grateful for him to take on what my own lack of professional athleticism can manage no longer.
After many false dawns we finally head downhill. After 17km, a distant light appears. It is the ice truck heading our way and it can not come soon enough. In the falling light, the truck has arrived like a shining beacon.
As joyous relief sets in, I ask Kevin which is better: a medal or finishing this trek? Without flinching, he says: "A medal. No-one will know about this".
"Oh yes they will," I gently remind him.
DAY SEVEN - HOMEWARD BOUND
I wake with dread - is it really over? Were those glorious, if shattered hours in the ice truck all just a dream?
Coach Jacques Borlée - for it was his idea - describes the past five days as "beautiful". I could use a few other different words for it.
Hellish, inhospitable, miserable, exhausting, but yes "beautiful" is also a word I would use for it.
Aside from the natural magnificence of Iceland's countryside, there is also a beauty to what Borlée hoped to achieve with his athlete charges.
Basic human survival is at stake on the glacier - the harsh conditions force individuals to work for each other simply to stay alive.
It is human nature at its most basic but there can be no better way of nurturing a collective team spirit than a hellish collective experience.
Without realising it, the nine athletes who were putting up tents in the dark, in a blizzard, in temperatures below zero, now have an experience that required mental fortitude.
Jacques Borlée hopes his athletes now have the building blocks for a unity that will serve them well when it comes to the 4x400m relay in London next summer.
"Physically it was all right, it's just mentally, especially at night," says Kevin Borlée, indicating that his father's extreme methods might be bearing fruit.
I ask him if he would do it again.
"Again? I want warm weather," he says. For now a hot volcanic spring will suffice.