Renewed spirits for Russian high jumper Ivan Ukhov
By Steven Rosenberg
BBC News, Moscow
Last updated on .From the section World Olympic Dreams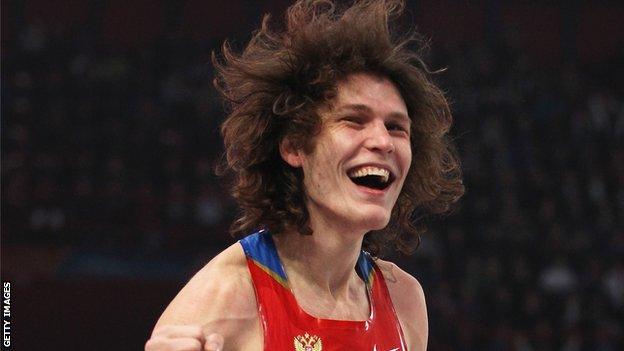 At a sports arena in the north of Moscow, a group of hooded monks in long brown robes bang on drums whilst jumping up and down.
The animated abbots are joined by a troupe of dancing girls with large fluffy pompoms and smiles as broad as the Volga River.
It looks like the kind of late night entertainment laid on at a seedy night club. But this is the opening ceremony of a Russian athletics competition. And one of the athletes here is almost as colourful as the floor show.
When he's introduced to the crowd, the spectators cheer the fuzzy-haired and very tall high jumper Ivan Ukhov.
Ivan is the current European indoor champion. What really made him famous, though, wasn't sport - it was spirit.
Three years ago, he turned up drunk at an athletics meeting in Switzerland. A rather wobbly Ukhov staggered up to the bar and collapsed onto the mat unable to jump.
The embarrassing scene was captured on mobile phone cameras and became an internet sensation. However, Ivan avoided suspension and now he has high hopes of a gold medal at the London Olympics in 2012.
He doesn't like talking about Switzerland and admits he never planned to become a jumper.
"For nine years I was a basketball player then I argued with the coach and packed it in," Ivan tells me.
"I took up the discus. But one day I saw some guys doing the high jump. I asked if I could have a go, just for fun. They said yes. I jumped so high I beat them all."
At the Russian Army Sports Club, a dozen conscripts huff and puff their way round the race track. Unlike this little regiment, Ivan Ukhov is not a military man, but this is where he comes to train.
Despite being nearly two metres tall, Ivan is surprisingly difficult to spot. I soon discover why.
In a corner of the arena, he is lying on his stomach and his trainer is stepping up and down on his back - to loosen everything up.
When the session starts, you can see why Ivan has Olympic dreams: he clears the bar with ease. But he does admit to having one major weakness - and it is to do with his footwear.
"I can't wear the kind of shoes most high jumpers use, the ones with spikes in the heels. I can only jump well without spikes. So, in rainy conditions, I lose my grip and that makes it harder for me," says Ivan.
That means that if London lives up to its reputation for rain in 2012, this Russian high jumper could be sliding all over Stratford.
To relax, Ivan goes for walks in the park with his family. The high jumper recently got married to Polina and has a baby daughter Melaniya. His family has brought stability to his life, allowing Ivan to focus on his sporting goals.
"The most important thing for me," Ivan says, "and the most important thing for any sportsman is to set a world record and to win an Olympic gold medal."
Russian athletics meetings are not quite the same as an Olympic Games. I realised that as soon as I saw the musical monks.
But if Ivan Ukhov keeps putting in winning performances like the one he achieved at this competition, he'll certainly be off to London - praying for sunny weather.