London 2012: Abhinav Bindra's road to the Olympics
Last updated on .From the section World Olympic Dreams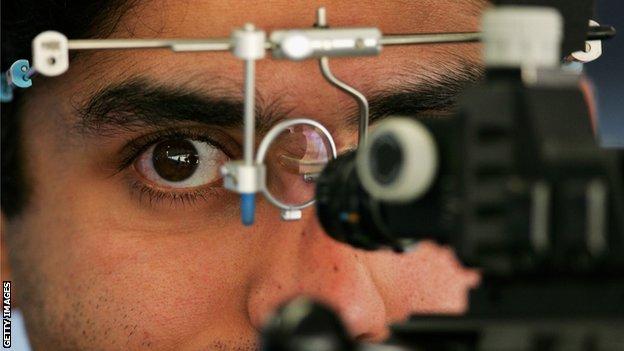 LATEST NEWS - 2012
Mon 30 Jul 12: Indian shooter Abhinav Bindra was unable to defend his Olympic 10m air rifle title in London. He finished 16th with a score of 594 out of 600.
"Obviously I am disappointed, but such is life," he said after the competition. "Let us face it, you can't win all the time, but there is no shame in not getting what you want as long as you give your best to achieve that."
"I could have taken easy way out, that is, if I had retired after Beijing. I was on high but I decided to continue," he added. "Sports teaches you many things in life. There are highs and lows in life. But I won't consider it as low because I tried my best."
Thu 19 Apr 12: - shooting balloons and bottles off the head of his maid as a 10-year-old.
"I was a little boy and I didn't really know what I was doing and so I did a few naughty things," he said at his home in Chandigarh.
Fri 13 Jan 12: Abhinav Bindra has won gold at the Asian Shooting Championships.
The 10 metre air rifle shooter overcame flu to finish ahead of previous champion Zhu Qinan of China.
He started in some style, dropping just three points to secure qualification to the final with a score of 597/600 where his score of 104.1 was enough to gift Bindra his first Asian Championship title.
According to the Hindustan Times, Bindra said: "It was a good result. It doesn't help me but it does not hurt me either."
His coach Heinz Reinkemeier was more enthusiastic. "I am happy with the win. We are building up towards London 2012 and this is exactly the result we wished for. We are satisfied with the outcome," he said.
LATEST NEWS- 2011
Fri 18 Nov 11: Abhinav Bindra has beaten Gagan Narang to win gold at the Indian Shooting Championships.
Narang won the 10m air rifle gold medal at last year's Commonwealth Games and poses a serious challenge to Abhinav's Olympic title.
When asked about his form ahead of the London Games, Abhinav said: "It's different. It's going to be hard, but I am training hard, giving my best."
Tue 01 Nov 11: Abhinav Bindra has been granted the honorary title of Lieutenant Colonel in India's Territorial Army.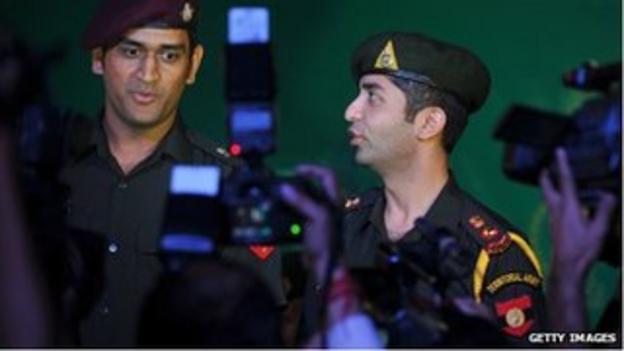 "Of course it is a huge honour and I am very humbled to have received such an honour, it is extremely humbling," Abhinav said.
Thu 20 Oct 11: Abhinav Bindra has won silver at the Asian Airgun Championships.
Sat 18 Jun 11: Abhinav has qualified for the London Olympics after he finished eighth at the ISSF (International Shooting Sport Federation) World Cup in Munich.
"Winning the berth was far more important than the medal. I did the hard work in the shoot off. Quota is bigger, everything else is secondary," Abhinav told the Indian Express.
Abhinav may still have to take part in trials for India's Olympic shooting team but he is one step closer to defending his title.
Sat 14 May 11: Abhinav failed to make the final of the ISSF World Cup in Fort Benning, USA. Improving on his last two results however, he finished 14th at the tournament in Georgia, USA.
Sat 09 Apr 11: After coming 27th at the ISSF World Cup in Korea, Abhinav said on Twitter: "Life has its roses and thorns. We must accept both."
Sun 27 Mar 11: Abhinav finished 23rd at the ISSF World Cup in Sydney. He fired a disappointing 593/600 in the 10m air rifle event.
Sun 20 Feb 11: Abhinav won gold at the French Grand Prix in Fleury Les Aubrais. He scored a total of 698.9 to beat France's Valerian Sauveplane by 0.6 points.
Thu 17 Feb 11: Abhinav has been issued an ultimatum by the National Rifle Association of India to appear at the the 34th National Games or risk his place in the squad at upcoming World Cups.
LATEST NEWS - 2010
Mon 13 Dec 10: Abhinav Bindra's fellow shooters have elected him to represent their interests on the ISSF's four-member Athletes Committee.
Sat 13 Nov 10: At the Asian Games in Guangzhou, China, Abhinav Bindra controversially failed to qualify for the final of the individual 10m air rifle final. However, India won silver in the 10m air rifle team event.
Thu 14 Oct 10: Following India's unprecedented success at the Commonwealth Games, Abhinav Bindra is now hoping that Indians will look to excel in sports other than cricket.
Wed 06 Oct 10: Abhinav Bindra could only get silver in the 10m air rifle final of the 2010 Commonwealth Games, losing to his pairs partner Gagan Narang.
Gagan Narang broke his own world record to win with 703.6 points whilst Abhinav Bindra was forced to settle for second place with 698 points.
Tue 05 Oct 10: Abhinav Bindra has won India's first gold medal of the Commonwealth Games.
Two days after leading India at the opening ceremony, Abhinav and his partner Gagan Narang won the 10m air rifle pairs by shooting 1193 points.
They broke their own Games record of 1,189 points set at Melbourne four years ago.
"It was always important for us to do well on home ground," said 28-year-old Bindra. "It gives us a good start and hopefully, we will have many more medals in the coming days."
Sat 31 Jul 10: Abhinav came 25th in the 10m air rifle final at the ISSF World Championships in Munich, the competition he won in 2006.