London 2012: Alistair Brownlee's road to the Olympics
Last updated on .From the section World Olympic Dreams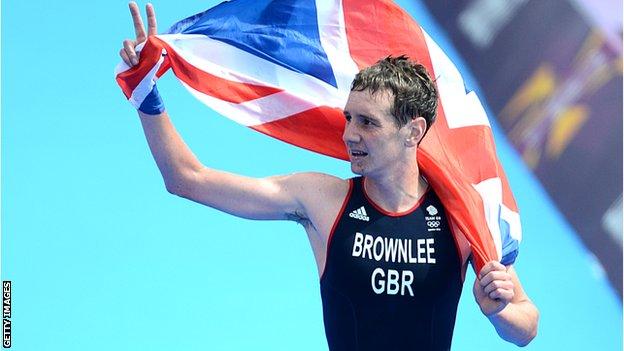 LATEST NEWS - 2012
Tue 07 Aug 12:
"The race was unbelievable and the crowds were amazing," he said. "My ears are still ringing from all that noise. The pressure was stacked up and so many things put to bed today."
Despite incurring a 15-second penalty, brother Jonny took bronze before collapsing with exhaustion.
"It feels a bit underwhelming because Jonny has collapsed, but, no, it is fantastic," Alistair said. "I am massively proud of Jonny."
Sun 24 Jun 12:
"It was a long gap since last September to now. An Achilles tendon tear is a pretty bad injury and the Olympics are in six weeks, so it couldn't get more important," he said after winning the Kitzbuhel World Triathlon Series race.
Sat 09 Jun 12:
Sat 09 Jun 12: Alistair Brownlee has been selected by British Triathlon to compete at London 2012.
Brother Jonny also made the team but
Thu 23 Feb 12: Alistair Brownlee has suffered an Achilles tear.
With six months before the London Olympics, the 23-year-old from Yorkshire must now wear a protective boot for a month.
"If I can get this boot off quite quickly and get training, I can get myself fit in time [for the Olympics]," Brownlee told the Metro newspaper.
Sun 08 Jan 12: Two-time world and European triathlon champion Alistair Brownlee has claimed yet another title - Yorkshire cross country champion.
He pipped his brother and previous year's winner Jonny by four seconds to secure victory in 34 minutes 51 seconds. Jonny later tweeted: "Came 2nd in the 'biggest' race of the year, the yorkshire cross country champs! Lost my title to @AliBrownleetri".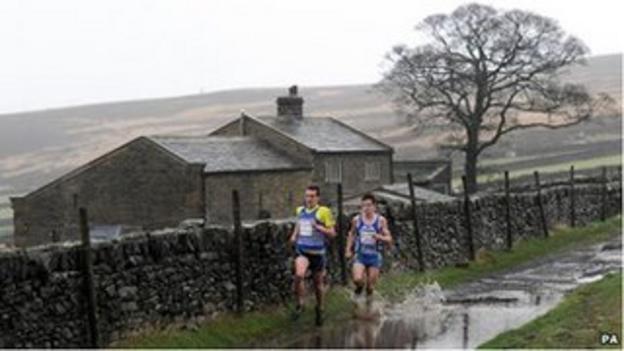 Sun 01 Jan 12:Alistair and his brother Jonny secured a one-two finish at the annual Auld Lang Syne Race on the Pennines.
"I took the lead 50 yards from the trig, and on the rough descent back to the Pennine Way took my chance," he said.
"Out of Sladen Beck, I just kept pushing, knowing that Jonny never gives up. I crossed the line exhausted, but very happy to win the race for the third time."
LATEST NEWS - 2011
Sat 10 Sep 11: Alistair Brownlee is world champion for a second time.
Alistair has established himself as the favourite for Olympic glory at London 2012 by securing his second International Triathlon Union World Championship, adding to his 2009 title. Joining him on the podium was younger brother Johnny who finished second in the overall standings.
"It's nice to do it twice and show it's not a fluke," said Alistair. "I think this has been my best year, 2009 might look better on paper, but I think this year has been better.
"I've had better races, I've had a few dodgy ones on the way, but I think my best races have been really good and it was great to finish it off here today."
Sun 07 Aug 11: Alistair Brownlee powered away in the final third to win the Hyde Park triathlon.
"To be honest I couldn't believe I got away on the bike," Alistair said. "I was worried I would be attacked on the bike."
By finishing first and third respectively, Alistair and brother Jonny have also met GB's selection criteria for the 2012 London Olympics.
Sat 25 Jun 11: Alistair Brownlee has retained his European triathlon title in Pontevedra, Spain.
The Yorkshireman's challenge looked in threat after his bike suffered a puncture but brother Jonny was able to slow down the pack and allow Alistair back into contention.
"It's one of my proudest races. If you win when things aren't going to plan, you can be really proud of yourself," Alistair said.
Sat 18 Jun 11: Alistair now leads the World Triathlon Championship Series after dominating the Kitzbuhel triathlon.
Despite finishing 44 seconds ahead of his nearest rival, Alistair was wary of over-exerting himself ahead of next week's European Championships in Spain, saying: "I knew I had a decent lead and I knew I was racing next weekend so I didn't push on too much.
"The race would have been easier to control if Johnny was here, that would have made the race a bit different. I've had two great races in two weeks, but I've got to recover and get ready for next week," he added.
Sun 05 Jun 11: Alistair and his brother Jonathan finished first and second at the Madrid triathlon.
It was Alistair's third successive win in the Spanish capital but the first time the brothers have stood together on the podium.
"It had to happen some time and why not have it happen in Madrid, a race where I have done really well," said Alistair, who even had time to wait for and celebrate with Jonathan before crossing the finish line.
Jonathan added: "It's a bit of a strange feeling but really nice that he waited for me - it was really a special moment."
Sun 10 Apr 11: Alistair finished 29th in the opening race of the ITU World Championship Series in Sydney following a fall while leading.
Alistair was out in front and rounding a corner in the rain when he slipped over. He never got back into the race and Javier Gomez crossed the line first.
His brother Jonathan, who took second place, said of Alistair's fall: "I shouted 'just get up, get up'. At first it was a bit of a shock because he was looking really good coming down the hill. That's the sport, he fell over. It's a shame really."
British Triathlon coach Mark Pearce said: "He took a knock when he fell, but it's nothing serious."
Fri 4 Feb 11: Details of the Hyde Park Olympic triathlon course have been released.
The Serpentine lake will host the 1.5km swim whilst the 10km run and 40km cycle will take in Buckingham Palace. This year's Hyde Park triathlon will act as a test event for the Olympics and has been scheduled for 6-7 August.
LATEST NEWS - 2010
Wed 17 Nov 10: Looking ahead to the 2011 season, Alistair Brownlee has identified qualification for the 2012 Olympics as his principal goal - possibly at the expense of winning the 2011 world triathlon title.
Sun 3 Oct 10: Alistair Brownlee won the French Iron Tour, which took place in Villeneuve-les-Avignon, Lyon, Valence, Chasse Sur Rhône and Mâcon over successive days.
Tue 14 Sep 10: Alistair won the cycling section of a tri-city triathlon organised by Eurostar to mark its sponsorship of the London Olympics.
Sat 11 Sep 10: Alistair Brownlee won the Budapest triathlon, the final race of the 2010 World Championship Series, but was unable to retain the championship title.
Alistair was reigning world champion going into the race but had to concede the title to Spaniard Javier Gomez. The Yorkshireman told BBC World Olympic Dreams: "It's been a tough season but a rewarding one. It started with a mad rush to try and get fit after having a stress fracture and I was feeling great and back to normality by London where I suffered from a bad episode of heat exhaustion.
"That took much longer to recover from than I expected. My next race at Kitzbuhel was a disaster so I took a week off to make sure I was fully recovered. In Budapest I knew I was not in top form but I gave it everything for a very satisfying win."
Sat 14 Aug 10: Three weeks after collapsing in London, Alistair Brownlee finished 40th in the sixth round of the ITU World Championship Series in Kitzbuhel. The event was won by fellow Brit Stuart Hayes but Alistair is still ranked 17th in the competition.
29 Jul 10: The BBC travelled to Yorkshire to experience
Sun 25 Jul 10: Alistair Brownlee was helped across the finish line in 10th place at the Hyde Park Triathlon in London after fading in the final sprint. His brother Jonathan was second behind Spain's Javier Gomez.