Iraq's Olympians row amid gunshots and bomb blasts
By Andrew North
BBC News, Baghdad
Last updated on .From the section World Olympic Dreams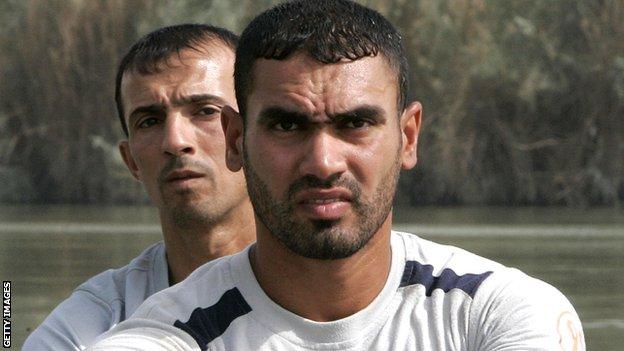 For a moment, you could imagine this is the River Thames. With long, precise strokes, two oarsmen in matching green Lycra ease their slender craft through the current.
The only sound is their oar-blades slicing into the water and the gentle hum of a motor launch behind.
But this image is shattered as they round a bend and the shell of a building gutted by American bombing comes into view.
The sound of gunshots or distant explosions still occasionally puncture Haider Rashid and Hamza Hussein's training sessions.
Welcome to the world of Iraq's Olympic rowing duo, as they prepare for the 2012 London games - where they plan to race in the double sculls.
Like other would-be Olympians, they train for hours each day, on the river or on rowing machines and weights at their boathouse on the Tigris.
There was some rowing in Saddam Hussein's time, when both men first tried the sport.
But only since his overthrow by the Americans has it attracted any serious attention or backing, with the formation of a national rowing federation.
Haider and Hamza have become the stars, winning several medals each in regional competitions like the Asian Games.
They also took part in the last Olympics in Beijing. "It's our dream to row again at the London Olympics," says Hamza.
But it has often looked like a dream over the past few years. Sometimes, because of the bloodshed and turmoil, they have not been able to train at all.
In 2006, they had to give up rowing altogether as the violence in Baghdad surged. Militias battled for control of districts along this stretch of the river with people firing at each other from each bank.
The Iraqi Rowing Federation boathouse had only been finished a year earlier, an expression of optimism before the descent into chaos.
Haider Rashid left and claimed asylum in Sweden but the head of the federation persuaded him to return and team up again with Hamza.
The violence has subsided but it has not stopped and Baghdad remains one of the world's most dangerous cities - hardly the ideal place to be training for the Olympics.
"Since the elections, things are not so good again," says Haider.
Having grown up in Baghdad, both rowers know the frequent disruptions to their training will make it difficult to do well in London. "We hope of course, but it will be hard to win a medal," says Hamza.
They are hoping to win funding to train abroad in the final run-up to the games. Rowing has become their life now.
Haider was first persuaded to try it by a friend who lived near the river, Hamza started with kayaking. The dedication and precision required by the sport suited his temperament.
"Anything I do I always try to do it perfectly, or else I'd rather not do it at all," he explains.
And they still have time, says Hamza, despite being 36.
"Rowing is a sport of persistence; age is not a problem as long as you keep practising."