London 2012: Enkhbatyn Badar-Uugan's road to Olympics
Last updated on .From the section World Olympic Dreams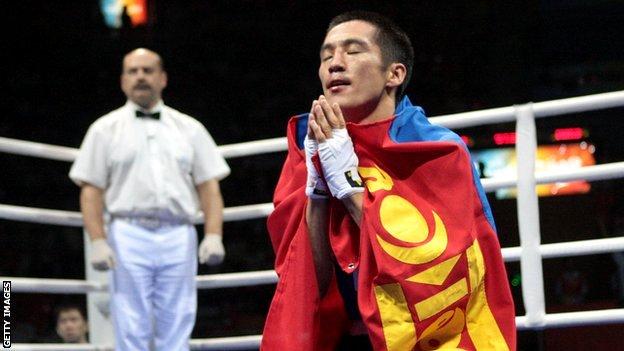 LATEST NEWS - 2012
Tue 15 May 12: Despite boxer Enkhbatyn Badar-Uugan's failure to qualify for London 2012,
"After the Games people became more interested in a range of sports," says Badar-Uugan of his gold medal at the Beijing Games.
"They started to realise it's possible to win a gold in the Olympics. It's down to you, you are the one who can achieve success."
Sat 24 Mar 12: Enkhbatyn Badar-Uugan will not compete at the London Olympics. The bantamweight boxer will miss out on the Olympic qualification event due to a back injury.
LATEST NEWS - 2011
Thu 8 Jul 11: After struggling all year with injury, boxer Badar-Uugan made a return to competitive boxing at the Republic of Kazakhstan President's Cup. He reached the semi-finals of the featherweight category (57kg), losing out to the Russian Madi Sholakov.
LATEST NEWS - 2010
Tue 10 Aug 10: World Olympic Dreams met up with Mongolia's boxing hero Badar-Uugan Enkhbatyn at his training base in Ulan Bator.
Talking about how he got into the sport, he said: "I used to get into fights all the time. But then my father told me to channel that aggression into something more useful."