London 2012: Mo Farah's form concerns Steve Cram

By Steve Cram
BBC athletics commentator
Last updated on .From the section Olympics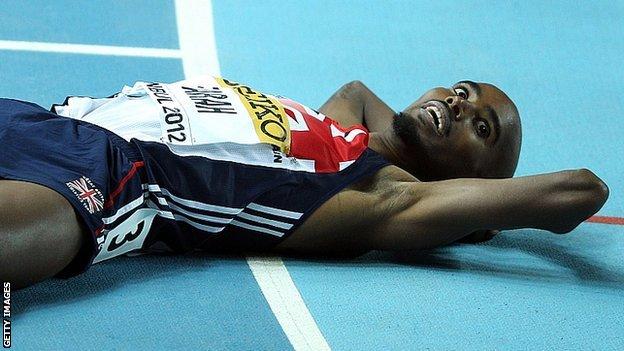 Overall, the World Indoor Championships were a success for Great Britain with plenty of good performances and a best-ever haul of nine medals.
Some British athletes produced genuinely outstanding performances, but the more worrying aspect was the failure of our two big Olympic gold medal hopes - Mo Farah and Jess Ennis - to deliver the goods in Istanbul.
There's no need to press the panic button yet. The World Indoors in an Olympic year do not carry the same clout as in other years and most athletes are very much focused on reaching their peak in July and August.
But it is never good to lose to your closest rivals and neither Mo nor Jess will be happy to have missed out on the gold.
Of the two, Mo's performance was the biggest concern with his fourth place in the 3,000m meaning he has now been beaten in four races in a row.
To be honest, I was a bit surprised that he ran at the World Indoors, because I didn't see what he could gain from it unless he was 100% confident that he was going to win. Given his previous couple of races, I thought he might have gone back into training and given it a miss.
Unfortunately, another loss will only serve to give his opponents confidence, and losing to his great rival Bernard Lagat in particular was disappointing.
Every time you win a race you are chipping away at an opponent's confidence and, when the reverse happens, it gives your rivals a lift. Now they will be thinking that Mo isn't invincible at all and, if they can stay close to him, they can put him under pressure and react when he hits the front.
So Mo has plenty to think about but he has enough experience to look at what the issues are. I think he is lacking a little bit of the zip that we saw last summer, but you wouldn't really expect that in March.
I'm sure he can put that right by the time he is running the longer distances this summer.
I think the important thing is that the next time he races, at the beginning of the summer, it's a good positive race. He needs to get his confidence back and send a good message out to everybody else.
While Mo heads back to the drawing board, I don't think Jess has too much to worry about.
Her performance at the weekend only underlined what she already knows, namely that all seven events are going to have to come together in the summer if she is to win the gold.
She didn't do anything horribly wrong in Turkey, but she was just a little bit off in the high jump and the long jump and that's all it takes for somebody else to nip in and win.
There are so many good people around and they are all capable of improving, so whoever wins in London is going to have to be someone with no weak links.
Elsewhere, I was thrilled to see Andrew Osagie take bronze in the 800m. He has been dogged by injury from the really early days but he's now maturing into a good, strong athlete.
Andrew Pozzi, who finished fourth in the hurdles, has a really good attitude and could well be one to watch in London.
We saw with Andy Turner that you don't have to be ranked in the world's top four or five to win a medal in a really technical event like the 110m hurdles. It's about keeping calm and delivering on the day.
Finally, it was great to see pole vaulter Holly Bleasdale get rid of the question mark over her ability to perform in the biggest events. After bombing out at the World Championships in Daegu, she showed great maturity to pull herself together after a failure and snatch the bronze.