London 2012: Wu Minxia and He Zi's road to Olympics
Last updated on .From the section World Olympic Dreams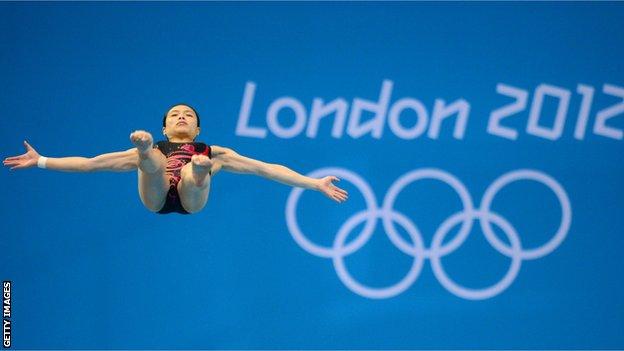 LATEST NEWS - 2012
Sun 05 Aug 12:Chinese diver Wu Minxia has won her second Olympic gold medal at London 2012.
Sat 21 Apr 12:Wu Minxia and He Zi have won 3m synchro gold at the Tijuana World Diving Series event.
The pair have now won all four legs of the series. Wu Minxia won the first individual 3m title in Dubai but He Zi claimed the other three.
Mon 27 Feb 12: The Chinese have dominated the Olympic diving test event, winning all eight titles on offer.
Among them, Wu Minxia and He Zi grabbed 3m synchronised gold at the event, which doubles up as the London Diving World Cup. Earlier in the tournament, Wu Minxia took the individual 3m title ahead of her partner.
LATEST NEWS - 2011
Sat 17 Sep 11:Wu Minxia and He Zi have qualified for the Olympics by winning gold at the Chinese Diving Championships. Earlier in the week He Zi won gold in the 1m springboard event.
Sat 16 Jul 11: Wu Minxia coaxed her injured partner He Zi to victory at the World Championships in Shanghai.
Wu has now won five World Championship gold medals in the 3m synchro event but this is the first she has won with current partner, He Zi.
Fri 22 Apr 11: He Zi and Wu Minxia have now won all four legs of the Diving World Series after clinching victory in Guanajuato, Mexico.
Thu 21 Apr 11: The BBC's Michael Bristow has joined He and Wu at their training base in China. He discovers they only get half a day a week to themselves and that neither have time for boyfriends.
Fri 15 Apr 11: It's a hat-trick of Diving World Series wins for He Zi and Wu Minxia after they secured victory in Sheffield.
Sat 26 Mar 11: He Zi and Wu Minxia returned to Beijing's Water Cube arena to seal their second win of the Diving World Series, claiming the 3m synchro title with a score of 341.10.
Sat 19 Mar 11: He Zi and Wu Minxia have won their first Diving World Series event of the season. They claimed gold with a score of 346.50 in the 3m synchro final in Moscow.
LATEST NEWS - 2010
Fri 26 Nov 10: He Zi also won gold at the Asian Games. She claimed the women's 3m springboard title with a final score of 382.
Although the gold medal was an improvement on her 2006 Asian Games silver, He believes she could have performed a lot better.
"I'm not satisfied. Although I won the gold medal the scores are not satisfying so it's like my joy is lessened," she said.
"I need more training. I know I will go through more hard times in future. I just want to practise the best I can everyday," she continued.
Wed 24 Nov 10: Wu Minxia has won China's 166th gold medal at the Asian Games.
She finished first in the women's 1m springboard diving final with a score of 326.15 points.
Reacting to the result, Wu claimed: "I was a little nervous but then I found the right feeling. I completed the last round slightly better. I did my best and avoided any mistakes."
Thu 10 Jun 10: Wu Minxia and He Zi won gold in the synchronised 3m springboard at the 17th FINA Diving World Cup in Changzhou, China with a score of 354.90.