Gift of £10,000 boosts Richard Buck's Olympic dream
Last updated on .From the section Athletics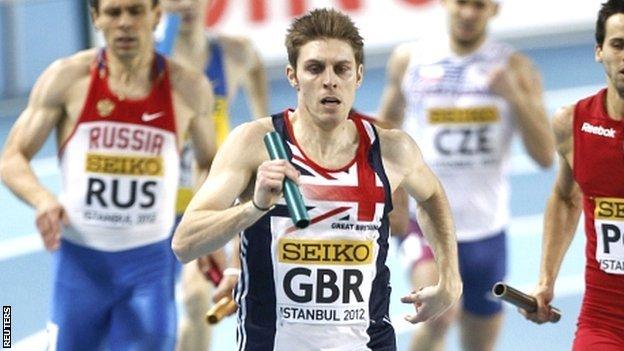 British 400m runner Richard Buck's hopes of competing at this summer's Olympic Games in London have been boosted following the donation of £10,000 from an anonymous benefactor.
Buck, 25, received a cheque from the 90-year-old donor after appearing on ITV's Calendar programme to discuss having his funding cut by UK Athletics.
The York-born athlete, who won silver as part of the 4x400m relay team at the recent World Indoor Athletics Championships, had been working in a supermarket to support his training programme.
"It's amazing. It's difficult to put into words really," Buck told BBC Sport.
"We put the piece out about me losing my funding and the idea behind it was that some local businesses might want to get in touch and give me support. But then I got a call saying they had received a letter and that they would bring it down and the cheque was with it."
After having his funding withdrawn last year, Buck sought alternative sources to fund himself but says he never lost sight of his goal of competing at the Olympics in his home country.
"I took a job at Tesco and got a sponsorship from BMW as well, and they gave me a car for 2012. So I sold my car and lived off the money I got from that and from working in the supermarket," explained Buck.
"I don't ever focus on not making things. I turn up at work, I turn up at the track and give everything I've got all the time. I'm very lucky in that the track and field is not about anybody else, it is about yourself. So long as I keep going and doing what is right for me, that is all I focus on."
Buck performed well at the 2012 World Indoor Championships in Istanbul, which concluded on Sunday, running a personal indoor best in the 400m and running the anchor leg as Great Britain's 4x400m relay team claimed silver.
He is now turning his focus to this summer's Games.
"I'm going back into a block of training now for about six weeks and start racing in May to try to get as close to the qualifying time as possible," he said.
"It sounds very simple: you run the qualifying time and then go and do as well as you can at the trials. What happens, happens. I think it's going well and I'm just looking forward to getting back into training. Hopefully I will keep that momentum moving forward."
Buck says the support he has received from the public illustrates the appetite many people in this country have for the Games.
"Having a home Olympics is absolutely great for everyone," he added. "It is something that I never envisaged in my lifetime, certainly not my career. From that point of view I am completely lucky to have the opportunity. I think the vast majority of the British public are looking forward to it as well."